24 Aug

Baby, oh Baby and the Elements Tour!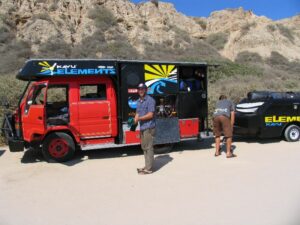 Seth Warren is at it again…..the creator of the award winning documentary "OIL + WATER" is now working on his "Elements Nature Propelled" documentary to educate the world on renewable energy.
Why come to San Clemente, you ask? Well, Seth's documentary is exploring the 4 elements, first being water, which is where Drew fits in. The crew had Drew paint up their message in typical Drew Style on their longboard, and then they all went surfing at San O, then a BBQ, and as it usually goes at the Brophy house, no-one wants to leave, so they all crashed at our pad! Read ON:
This week, Seth and his crew are heading to Mexico in Baby, a converted Japanese fire truck designed to run on veggie oil. Seth's current crew consists of Woody, camera-guy and jokester, Alison Teal, hottie surfer chick from Hawaii, and Michele Robb, a world traveler who produces T.V. commercials when she's not trekking Somalia or scaling Everest. Here's Seth, proudly showing off his "baby"!