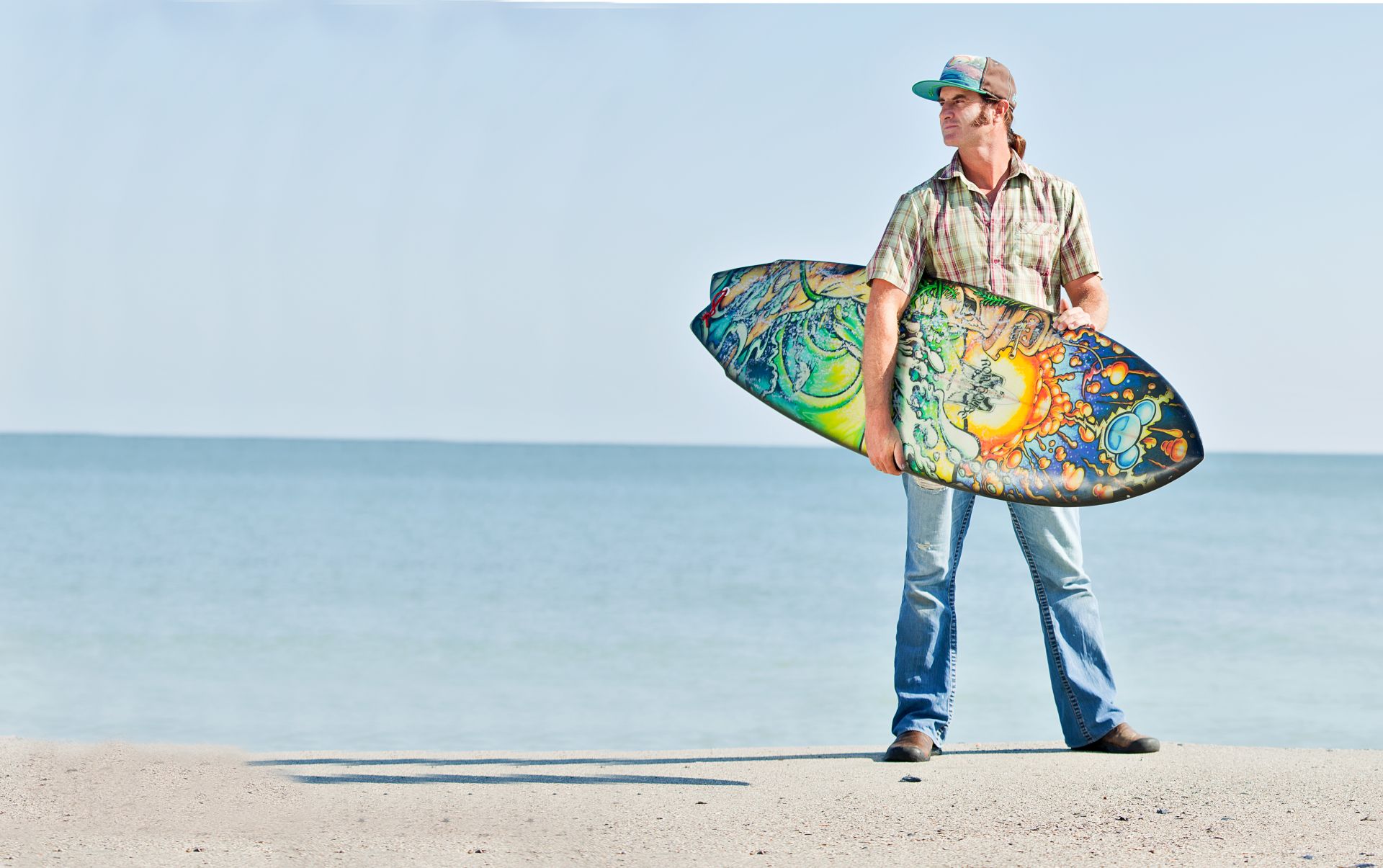 PRESS RELEASE
MYRTLE BEACH ART MUSEUM FEATURES SURF CULTURE ARTIST IN
MAKING WAVES – A DREW BROPHY RETROSPECTIVE
The Franklin G. Burroughs-Simeon B. Chapin Art Museum's exhibit presents the first museum exhibition of Drew Brophy's body of artworks that cover the span of thirty years.
April 13, 2018 – Myrtle Beach, SC – Drew Brophy, an American artist born in 1971, is a self-taught, professional illustrator and fine artist. Brophy is globally known for his surfboard art and distinctive style of surf-inspired paintings. He is credited as the artist who changed the way that surfboards were painted worldwide, in the 1990s, using painting techniques that he developed with opaque paint pens.
Brophy grew up surfing in Myrtle Beach, South Carolina. He left the area in his early 20s to experience surfing throughout the world while creating art inspired by his travels. He currently resides in San Clemente, California.
Brophy's art has a distinctive style of bright colors and exaggerated features and is a direct expression of his love for surfing and nature. His images, which have become ubiquitous in surf culture and beyond, capture the emotions of having fun at the beach and a love for the ocean. Through his travels, Brophy has been able to reach a global audience. His art has been featured in mainstream magazines, such as Spin and Playboy, and have graced the cover of several surf-culture magazines, such as Surfing Magazine and Longboard Magazine. He has been commissioned to create surf-inspired works for tech companies such as Google, IBM and Western Digital. Brophy's designs have adorned hundreds of beach lifestyle products, including skateboards, surfboards, bodyboards and apparel.
The exhibition features over 70 of Brophy's most iconic sketches, paintings and surfboards, arranged chronologically – from his early illustration works as a teenager to works for action sports companies, such as Liquid Force Wakeboards, Lost Surfboards and Sector 9 Skateboards, and more recently for bands and musicians, like Sublime with Rome and Eddie Vedder. The exhibit finishes with Brophy's expansion into his latest style of work inspired by physics and mathematics, incorporating sacred geometry into large, mixed-media paintings on canvas.
Most notable in the exhibit is the visual demonstration of the evolution of the artist's work from sketch to product output. For many of his iconic works, the exhibit includes Brophy's original graphite sketch, the painting and the item that the illustration was later printed on, allowing the viewer to see the complete progression of a design.
Brophy says of the exhibit, "I feel honored to have this opportunity to showcase my life's work. This exhibit celebrates a 30-year journey of surfing and drawing that began in Myrtle Beach and allowed me to use those skills to travel the world with my family. It is my intention to inspire younger artists to imagine what is possible for themselves."
The exhibition is on display June 23, 2018 through September 16, 2018 at The Franklin G. Burroughs • Simeon B. Chapin Art Museum, 3100 South Ocean Boulevard, Myrtle Beach, South Carolina, 29577 | MyrtleBeachArtMuseum.org.
Press Contact: Brophy Art Gallery at 949-678-8133 or info@drewbrophy.com. http://www.drewbrophy.com or Liz Miller of The Franklin G. Burroughs-Simeon B. Chapin Art Museum at 843-238-2510.
**PRESS IMAGES (Available ONLY for press to use in connection with Drew Brophy's Museum Exhibit): https://www.dropbox.com/sh/7qkhchd1dikr9r5/AACTMMfKCkU0qXdkcbYJlgXsa?dl=0
The Franklin G. Burroughs-Simeon B. Chapin Art Museum is Myrtle Beach's only art museum. Opened in 1997, this nonprofit museum is located at 3100 South Ocean Blvd and contains seven first-floor galleries with rotating exhibits, four second-floor galleries, an art studio, an art resource library and tea porch with an ocean view. The Museum was named after Myrtle Beach pioneers Franklin G. Burroughs and Simeon B. Chapin for their longtime contributions to the cultural and educational development of the community. The Art Museum's hours of operation are Tuesday through Saturday, 10 a.m. to 4 p.m. and Sundays, 1 p.m. to 4 p.m. Admission is free.
The Brophy Art Gallery and Design Studio features the illustration and fine artworks of Drew Brophy. Located at 139 Avenida Granada, San Clemente, CA, the gallery has a showroom for designer meetings and it houses the working studio of Drew Brophy.
# # #