14 Jul

BOARDS & WAVES EXPO Daytona Beach July 12 & 13, 2008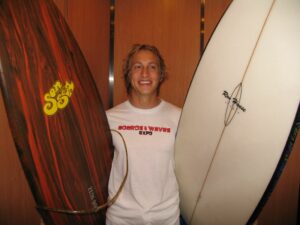 Boards and Waves Expo, Daytona Beach – Like a surf trade show, only it's open to the public!   http://www.boardsandwaves.comEVENTS
What went down:  We had a  kick-ass booth showcasing  new surfboard laminates of Drew's art on skillfully-crafted Island Inpired Surfboards (by Todd Sutz), as well as our new DVD, skateboard decks with Sector 9, posters, and lots more.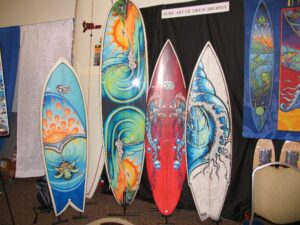 The waves were pumping, and everyone had a blast!  We partied hard & surfed hard.  It was so much fun!
We also held painting demos and a business of art seminar.  Famed artist Mark Longnecker joined us and he and Drew painted a board together.  Read on: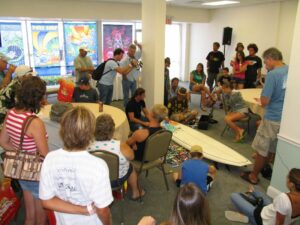 July 12, 2008 (Sat) from 1:00 – 2:00: HANDS ON, INTERACTIVE PAINTING EVENT LED BY DREW:
The room was packed as Drew demonstrated his painting techniques on a surfboard, giving as many painting tips and tricks as he could in one hour.  Mark Longnecker, famed tattoo artist from Cocoa Beach, showed up and Drew made him join in on the painting demo!
July 13, 2008 (Sun) 1:00 – 2:00: THE BUSINESS OF SURF ART SEMINAR with Drew and Maria Brophy
Drew and I shared basic business strategies as an artist and discussed successfully breaking into and maintaining an art business in the surf industry.  We gave some good stories on our sucesses and failures, and we encouraged all of the artists to stick together and help each other.
�