06 Apr

Chris Lundy Paints BIG Giant KILLER Masterpieces
Yesterday I took the family up to Santa Monica's James Gray Gallery at the Bergemot Station Art Center to see Chris Lundy's latest masterpiece.  A surreal, blue wave painted over 5 canvases, about 9′ x 17′ – titled "Beautiful Reaper" – it was absolutely amazing.
I've always loved Chris Lundy's work.  As a teenager, I would be in awe of seeing his artwork in magazines, on posters for Quiksilver, and other illustrations.
Then I moved to the North Shore of Hawaii, and  life was tough. It was hard to make friends there and even harder to make a living.  I got a job airbrushing surfboards at Bill Barnfield's in Haliewa.  That's where I got to meet Chris, and he happened to be the first successful artist that I had the privilege of meeting.  It was a big deal to me to get to meet him.  And Chris was one of the few guys on the North Shore that was nice to me.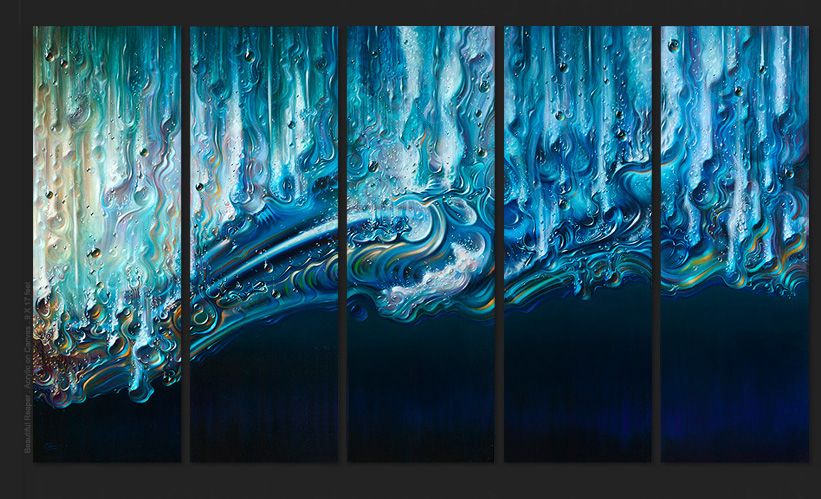 Chris would give me tips on painting, like how to add highlights, things like that.  This was important to my growth as an artist, because I never got to go to art school.  But I learned a lot from Chris.  That was about 18 years ago – and I've watched Chris continue to grow his craft.  It's hard to imagine that his artwork could get better than it already was, but after visiting the gallery, I was blown away at the scale of his pieces and how his art and skill has grown even more.
When I looked around his Exhibit yesterday, I felt inspired to paint again – real paintings, not the commercial art that I do to pay the bills.  I got excited about the possibilities.  I love to paint big.  I respect that Chris will put a year into a painting – like his latest masterpiece, which has a price tag of $150,000 on it.  (Whoever buys this piece will be very lucky to own it).  I can just picture him stretching his own canvas, making the frames, and then splattering the entire studio with paint during the process.
The closing night of Chris Lundy's Exhibit is Thursday, April 9th.  Go see it – you'll be awestruck and amazed.  It's incredible.
James Gray Gallery, 2525 Michigan Avenue, Bldg D4, Santa Monica, CA 90404 (There are many galleries in this center, so there's plenty to check out)
Follow me on Twitter.