22 Feb

NZ Travel Log 0221 – Mount Surf Shop and Artists Abound!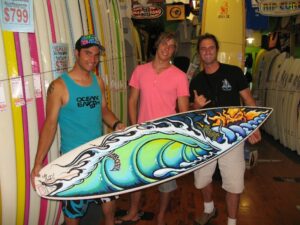 We e-mailed Josh at Mount Surf Shop , located in the cool little town of Mount Manganui, NZ, offering to do a paint demo in the shop.  We were stoked that he was so amped to do it.
There were a lot of artists present, including Jake the musician, an artist who works there, a couple groms Annaleise and Mitchell, and the world famous Royce McClure and his talented offspring as well!
Drew put the groms to work on the painting, and they did a great job.  They even signed their names on the painted board afterwards.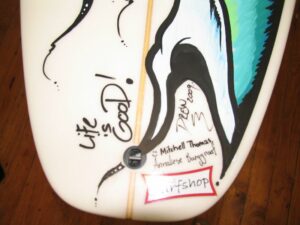 We met a few other artists who showed up for the event, including a local named Keith Harding, who does some great hot rod art.  He bought Drew's DVD and some paint pens and is going to give that a go with his artwork.  Keith, if you're reading this, send us photos of what you've come up with!
Mount Surf Shop was cool – it was bustling with people and activity, and I think they were happy we came.  We were, too.