12 Oct

Sacred Craft Surfboard Expo drew huge crowd again!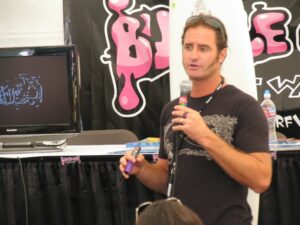 The Sacred Craft Consumer Surfboard Expo stepped it up huge for their 2nd annual event. Held on October 11 & 12, 2008 at the Wyland Exhibit Hall, a much larger venue from last year, they added more big name characters and popular shapers to their seminar list. Even surf icon Gerry Lopez showed up today!
With a stellar introduction by the surf industry's greatly respected Sam George, Drew's demonstration drew over 100 people again this year, and some fans came from as far as San Francisco to get themselves educated on paint pen techniques.  Planet X TV was on the scene, filming the demo.  Check out the photos here:
Ricky Carroll won the "shape off" for the 2nd year in a row, though we were rooting for Ron House (see the board above), we couldn't have lost to a greater guy!