04 Oct

2-Day PAINT PEN Workshop with Drew – Date to be Announced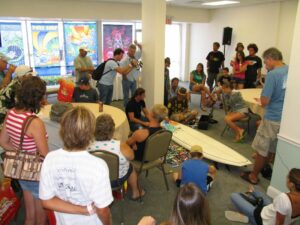 Sign up for this 2-DAY WORKSHOP to paint just about anything with Drew Brophy's Paint Pen Techniques!  Date to be Announced – sometime in 2010.
Bring your canvas, paper, surfboard, skateboard, helmet, just about anything to paint on in this hands-on workshop!
Drew will share his tried and true techniques on painting with water based paint markers.
In this hands-on workshop Drew will Demonstrate:
Prepping your painting surface
Composition – sketching out the best design for the surface you are painting on
Color Schemes
Blending colors
Properly sealing your art
Documenting your painting
An open Question and Answer session with Drew during the workshop
Price:  $135.00 per person (includes 10 paint pens & other materials)
Location:  San Clemente Art Supply, San Clemente, CA
To Register:  Call 949-369-6603 or go to www.scartsupply.com
This workshop was created to inspire you to trick out your board, your shoes, your walls, anything, with killer paintings!