Please note: This product only ships to USA & Canada[cart type="add" product="Indo Original Training Package – Drew Brophy's Bamboo Beach" price="159.95″]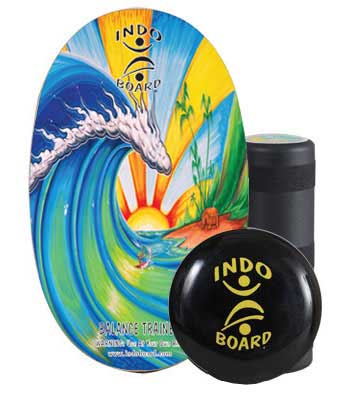 The Indo Original Training Package combines the "Original" model deck, roller, and the IndoFLO® Balance Cushion. This offers the benefits of the IndoFLO® Balance Cushion in addition to our roller in one complete package. This training package provides a complete workout unit without taking up a lot of space.
The mouth inflatable IndoFLO® Balance Cushion is used as an alternative to the roller. You can adjust the degree of instability on the cushion with the level of inflation. Less inflation means more stability while inflating the cushion to it's maximum creates the most instability. The basic difference from deck and roller configuration is the deck does not actively roll on the cushion, it simply tilts offering a full circle of instability that is challenging in a fun way yet difficult to ride and bring under control.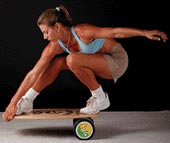 What you have is a mini gym in the comfort of your living room! You can perform functional fitness exercises on both the roller and cushion in combination with dumb bells, stretch bands, and medicine balls such as squats, push-ups, oblique twists, lunges and wood chops. Using the Training Package system lets you engage both the upper body and lower body simultaneously and will add new dimension to any training regime. You create what suits your goals, whether it's better coordination and balance or sports specific functional multiplanar training.
Indo Boards were originally created for surfers to train and have fun when not in the water. Now all board sports have come "on board" for one of the most fun and challenging training products on the market. Today the Indo Board is moving into the fitness market as a new innovative approach to incorporate fun into core training.
Demo DVD provided FREE with the purchase of this Indo Board Balance Trainer.
30″ x 18″ deck
250 pound maximum weight limit
6.5″ diameter roller
14″ diameter polyvinyl IndoFLO® Balance Cushion (mouth inflatable)