NOSE PANELS:  All the same size, will work for most surfboards size 6'0 to 9'0.  Smaller boards, obviously, will lose some of the art.
There are six to choose from:  Buffet, Bamboo Beach, Local Surfers, Tiny Turtle, Pure Joy and Surfer's Paradise.  The lam will be rolled up and mailed in a tube.  The buyer will have to have their glasser apply it.  The laminate will come with directions for your glasser.
Printed on a 1.4 oz synthetic fabric with water based inks. This fabric is applied like a standard surfboard inlay, either in the nose of the board, bottom of the board, or on the whole deck. When glassing the board it is highly recommended that you get a gloss coat to bring out the full richness of color. This material goes semi-clear but has a milky ness look if applied over color work or dark line work, so apply on white decks and work around the potential visible seam (a pin line to transition from printed area to unprinted is the usual way). See detailed inlay instructions if your glasser is unfamiliar with the technique of applying an inlay.
Notes – this material is not structural and should not be left in high heat or direct sunlight for prolonged time period (basically just treat it like a normal board don't be dumb and leave it in your car uncovered all day). This surfboard inlay can be used with both epoxy and polyester resin systems.
SHAPERS / RETAILERS: Contact Son of the Sea, Inc. at 949-354-ART1 for quantity wholesale pricing (12 or more pieces).
TO ORDER PLEASE GO TO OUR  NEW SHOPPING CART:  http://drewbrophy.mybigcommerce.com/categories/Surfboard-Laminates/
LOCAL SURFERS – NOSE PANEL LAMINATE
It's their beach and their water and their world! Show some respect!
BAMBOO BEACH – NOSE PANEL LAMINATE
A tidal wave size break on a magical beach that shimmers in the sun!
PURE JOY – NOSE PANEL LAMINATE
The Pure Joy Panel will constantly remind you of what your goals are out in the water. 10 toes a' danglin'.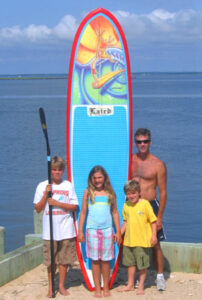 SURFER'S PARADISE – NOSE PANEL LAMINATE
It's where we'd all like to be – every single day of the year!
BUFFET – NOSE PANEL LAMINATE
It's not just for breakfast anymore…