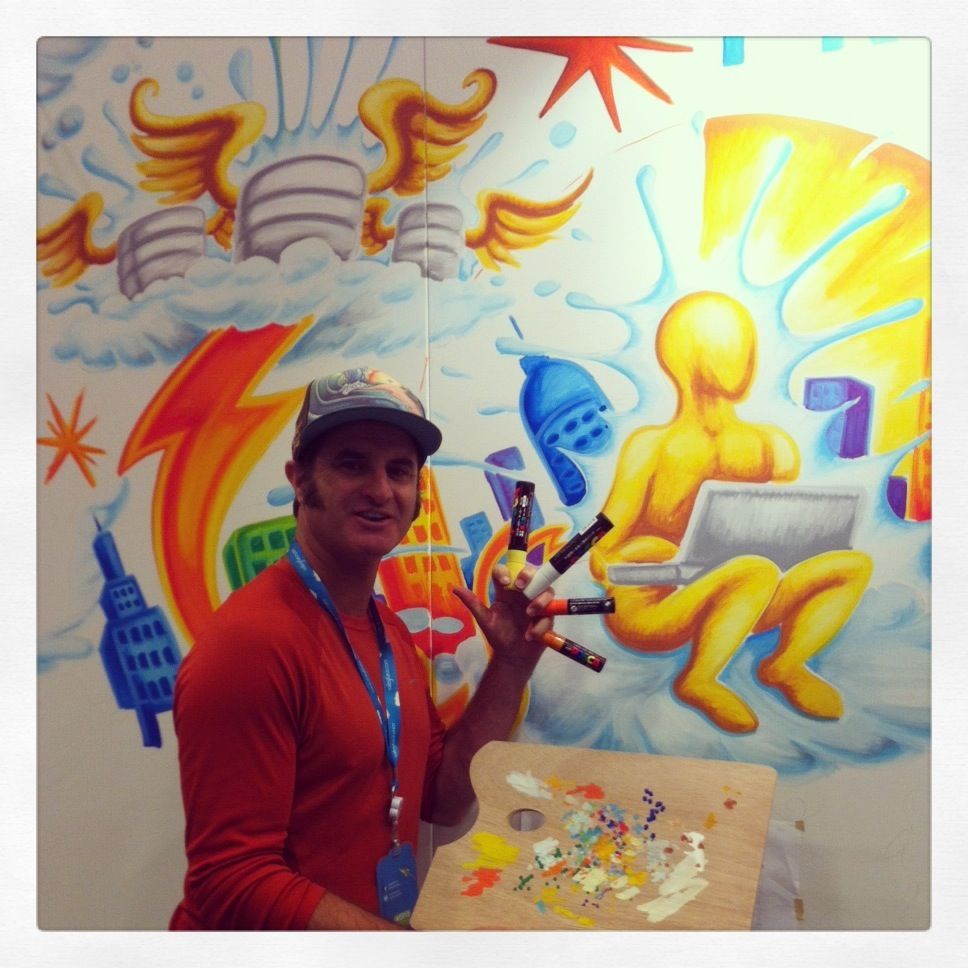 CASE STUDY:  Illustrate Progress Software's new product, Easyl, in a live painting at Dreamforce in San Francisco.

WHEN:  October 2013
CLIENT:  Progress Software
MISSION:  Showcase the new software product, Easyl, and increase interaction with new prospects during Dreamforce 2013 by creating a memorable, stand-out presentation in their booth.
SCOPE OF WORK:  Research, design and create an 8' x 15' canvas mural to be painted live, during the first three days of Dreamforce. The painting was designed to cleverly illustrate the complicated workings of the Easyl software.
(Easyl unites your data and dramatically simplifies the process)
Painting the mural live during the show added vibrance and energy to a booth where all the other booths in the show looked alike. The live painting generated energy that drew people in, to get a closer look, and Progress Sales staff could then engage the customers more easily.
RESULTS:  Progress Software booth traffic increased significantly from the previous year.  They stood out amongst their
competitors at the show, and a photo of their mural was featured in "50 photos of Dreamforce 2013" on the Dreamforce website.   Mission Accomplished!
DAILY MURAL PROGRESS
DAY 1:
My main goal was to get one third of it painted. I focused first on the Progress Sofware and Easyl logos for quick brand recognition as I worked on the rest.
This mural has 3 major components to it; the illustration of Quick access to your Data, Data Direct and Easyl, the magic bringing it all together.
I used Uni Posca Paint Pens on the entire painting!  They are non-messy, have no smell, and dry quickly.
The crowds response to the mural was extremely positive. We heard a lot of people say "this is the most creative booth we've seen here!"
PROGRESS UPDATE, DAY 2:
My goal was to get the next 30% painted and to give it vibrant energy.  And I did that.  The response of attendees has been phenomenal – so many people coming by the booth to see it!
I've been painting it with Posca Paint Pens, which seems like a tedious medium for a huge surface, but it's allowing me to keep the colors vibrant and to get the detail and color blending that I want.
PROGRESS DAY 3:  First, I made it my plan to get rid of all the remaining white.  Then, add in all the little bells and whistles that make a painting go from good to great; like the highlights, shadows.   We encouraged people to get their picture taken in front of it.  It was a great photo opportunity!