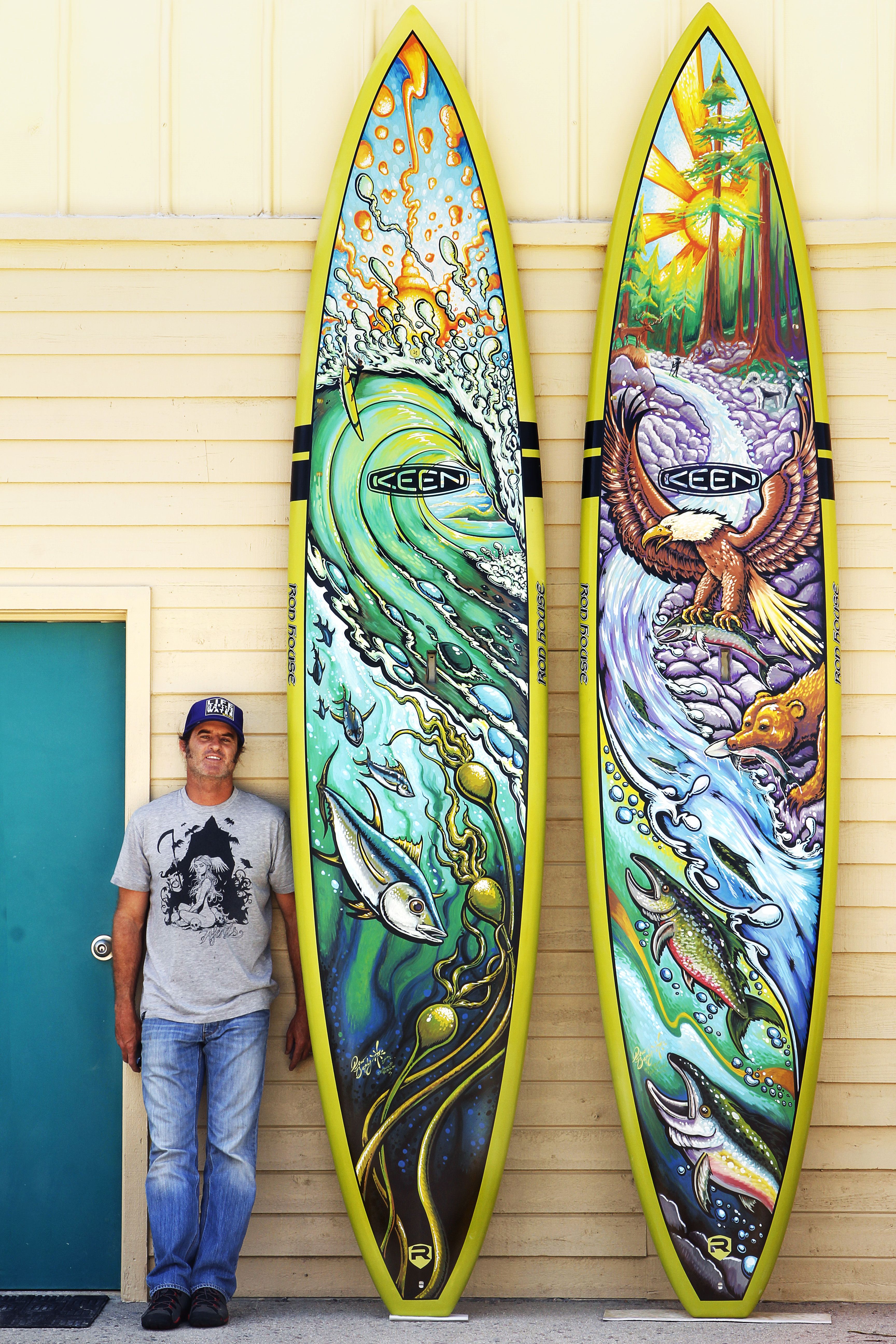 "All of my paintings depict real life experiences that I have.  When I paint from my own memory, that's when the art shows vibrant energy and life, because it's real."
I never travel without standup paddleboards, even when I fly overseas.  
They allow me access to get up close and personal to wildlife and water caves and nature. 
Standup Paddleboards have made my life, and my family's experiences, so much richer.
Last year, my family and I took four Riviera Paddlesurf boards with us on a five month exploration across America.
We paddled lakes and rivers and hiked and camped in the vast back country of America.
Two of those paddleboards became one of the most fun painting projects I got to work on this year.
When David, at Keen Footwear, asked for something special for the entrance to their building in Portland Oregon, I knew exactly what I wanted to do.
Keen is all about living the Hybrid Life and the great outdoors, and most everything in their building is made from recycled materials.
So I thought that it would be perfect to "upcycle" and paint on two of the paddleboards that we had so many adventures on.
Keen has been a long time supporter of my adventures, and I'm stoked to have been one of their very first ambassadors.  Keen water shoes, hiking boots and gorge boots go everywhere with us in our van, because, well, you never know when you'll need them.
These paintings are on 12′ paddleboards, the biggest boards I can remember painting.  I used Uni Posca Paint Pens and sealed it with Krylon Spray.  It took me a few weeks from start to finish.
I loved painting my travel memories on these boards; it didn't feel like work to me at all.
All of my paintings depict real life experiences that I have.  When I paint from my own memory, that's when the art shows vibrant energy and life, because it's real.
This project for Keen was no exception.
Each of these two paintings tells a story of adventures that we lived, and I think that's what made painting them so enjoyable.
It was as though I was reliving those moments of adventure all over again.
PADDLEBOARD PAINTING #1:  THE GREAT NORTHWEST
This painting shows some of the wildlife my family and I saw on our five month trip across America last year.
The Trout:  In Redfish Lake, Idaho, I was catching trout off of the paddleboard.  It was funny; there were a few guys out there in a nice fishing boat, with all new equipment, and here I paddled out with my son's fishing rod and a red bucket, and I was catching all the fish!
The Bear:  While in the Sawtooth Mountains in Idaho, we saw a bear walking on the ridge not far from where we were parked.  The kids were excited to see a bear in the wild, and I was glad it was far enough away!
The River:  I took my inflatable Riviera Paddleboard down the Salmon River in Idaho for 11 miles.  Along the way, being the only human in the water, I saw elk and deer and eagles.  It was amazing.
PADDLEBOARD PAINTING #2:  NELSCOTT REEF
This winter I finally got to surf giant waves at Nelscott Reef in Oregon.  This painting shows the giant kelp you see out there, the big fish and of course a small surfer in a huge wave!
I wrote a post all about the Nelscott Reef Adventure, you can read it here:  Mission to Surf Nelscott Reef – Big Waves in Oregon.
You can visit these paddleboard paintings in person – just go visit the Keen Garage in Portland Oregon.  (Click the link to see a short video of their really cool store.)
It's a cool building and worth your visit.
You might want to pick up a few killer pairs of Keen's new, lightweight CNX shoes while you're there.
GET OUT THERE AND HAVE YOUR OWN ADVENTURE!
Everyone should plan an adventure.  Do it  this summer.  Don't wait until you're too old to enjoy the rivers and lakes and oceans and mountains and whatever else makes you happy.
I hope these paintings and sharing my experiences will inspire some people to go enjoy life, now.  Because now is really all we have.
Life is Good,
Drew