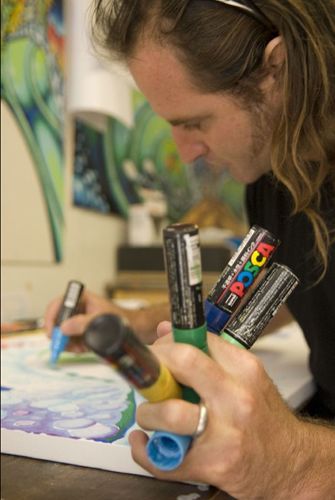 You can paint anything with water based paint pens!  
Learn Drew Brophy's tried and true Uni Posca Paint Pen Techniques in this hands-on workshop.
Drew has earned a living for over 25 years, mostly using the medium of opaque, water-based paint pens made by Uni Posca.
He has painted surfboards, skateboards, motorcycles, guitars, canvas, everything with this medium.
UNI POSCAS offer a quick learning curve; it's an easy, un-intimidating method of painting.  Most artists who try it fall in love with the possibilities of this medium.
WORKSHOP DESCRIPTION:
Paint on the materials we provide, or, bring your own canvas, surfboard, shoes, helmet; just about anything you want to paint on in this hands-on workshop!
In this course, Drew will share techniques on how to:
Prepare your painting surface
Create the perfect composition
Design color schemes
Blend the colors
Properly seal your art.
How to earn money $$ using these techniques
An open Question and Answer session with Drew will continue throughout the workshop.
This is a rare opportunity for artists to spend time with Drew on a personal level for two days!
Drew will welcome questions during the workshop about the business of art and will freely share what has worked for him as a professional artist for over 25 years.
Workshop participants will get a 10-pack of Uni-Posca paint pens and a signed art print from Drew ($60 value).
WHEN:  Nov. 10-11 (Sat & Sun) from 3-6 p.m.
WHERE:  Art Mundo, 111 Orange Avenue, Fort Pierce, FL 34950
SIGN UP: Go to http://www.ArtMundo.Org or call 949-678-8133
QUESTIONS ABOUT THE WORKSHOP?  Email Drew or Maria at info@drewbrophy.com or call 949-678-8133.
IMPORTANT:  Sign up quick so that supplies may be ordered and shipped to the workshop in time.  Class is limited to 12 students!
WORKSHOP GENEROUSLY SPONSORED BY TREASURES OF FORT PIERCE! and SENTIMENT GIFT SHOP!
TESTIMONIALS:
"Drew showed me how to use paint pens and now I'm making money painting all kinds of things for people!"  Jimmy "The Marine", Oceanside, California
"I had always wanted to paint my own surfboards.  The paint pens are an easy medium to learn.  Now I'm painting boards for my friends!"  Donny D, Vero Beach, Florida
PHOTOS FROM PAST WORKSHOPS:
http://drewbrophy.com/workshop-with-drew-myrtle-beach-sc-aug-3-2008/