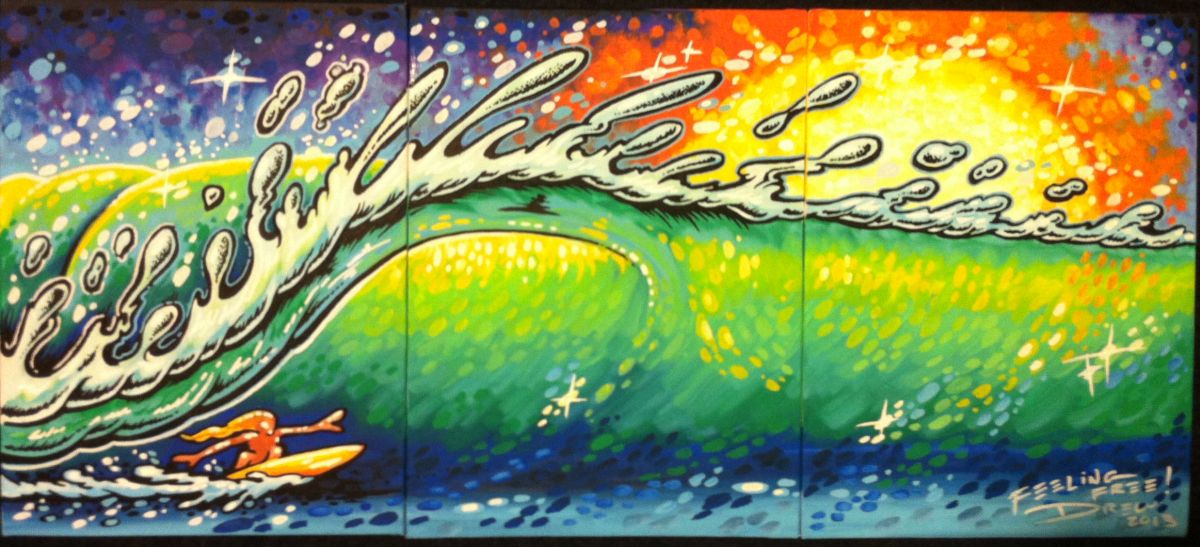 FOR THE NEXT 20 DAYS, I'M CREATING 20 ORIGINAL ART PIECES that reflect my thought process and where my ideas originate from.  
I'm painting from the heart, just having fun with it.  You might love 'em, you might hate 'em, but either way, I hope they invoke a feeling for you.
(If you share my posts, please tag  #20×20 #drewbrophy #SurfArt)
Today's Painting is the 4th of 20, titled FEELING FREE Triptych Three pieces each 8″ x 6″ (total size 8″ x 18″) on Canvas board, medium Uni Posca Paint Pens.
I think this painting would make a great t-shirt design!
On the #20×20 Commitment:  I'm not trying to create masterpieces, I'm just trying to execute a cool painting every day, using different techniques and ideas, or both.
It's been fun trying new things, for example, with this painting.  I'm playing with color and not adding so much detail.  I'm letting the color create cool effects.  Some of these effects are inspired by artist Bill Ogden, who has a fantastic style.
Yesterdays painting TUNING INTO THE UNIVERSE was my experiment with stretching a strange concept, and executing the idea.  The first two paintings were a direct inspiration from being at the Hurley Pro surfing contest.
Today, I wanted to do a small painting, but only one 8″ x 6″ canvas board seemed too small, so I decided to grab three of them.  I've painted triptychs on surfboards before, but never on small canvas boards.  It's a challenge for me to paint this small.
At the end of my #20×20, I plan to post all the paintings and ask people to choose their favorites and what they want to see more of.
This is a good experiment for me.  Thanks for being a part of it.
Please, leave me a comment and let me know what you think I should paint next!
Life is good,
Drew
FEELING FREE is for sale!  SOLD to Jim in Florida!  8″ x 18″ Paint Pen on Canvas.  The first person to email info@drewbrophy.com gets it.
It won't last long – these paintings sell quick.
If you miss it and you want to consider the next #20×20 painting, email info @ drew brophy dot com and we will put you on the "PREVIEW" list, in line for the next one.
WHEN EMAILING to BUY ONE OF THE #20X20 PAINTINGS:  email info @ drew brophy dot com immediately with your  phone#, shipping address preferred payment method (Paypal or credit card).  We will need payment within 4 hours of your email, or the painting goes to the next person in line.  Thanks!