07 May

How to Draw Waves – Phil Roberts Demonstrates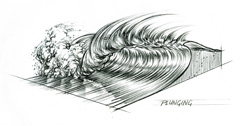 Phil Roberts calls himself a "surf artist", but I like to refer to him as the Modern Day Da Vinci.  He's extremely gifted in the creating of art, particularly with human figures.  Drew is always amazed at how well, and easily, Phil can depict the human figure.  Phil's taken that extreme talent into drawing waves and life under the sea.
We have a few Phil Roberts' originals hanging in our home – my favorite is the smokey figure painting of a beautiful woman.  Drew's favorite Phil painting is of a big, giant tube at J Bay, one of Drew's favorite surf spots.
Watch the video below to see Phil demonstrate how to properly illustrate a wave,
[kml_flashembed movie="http://surf.quiksilver.com/videos/quikvideo_embed_small.swf?galleryID=449&pl=3990″ targetclass="flashmovie" publishmethod="static" width="545″ height="338″ salign="l" allowscriptaccess="always"]
Click here  http://themountainandwave.com/?p=3413 – to link to Quicksilvers' article on Phil Roberts!
Spunk Brophy