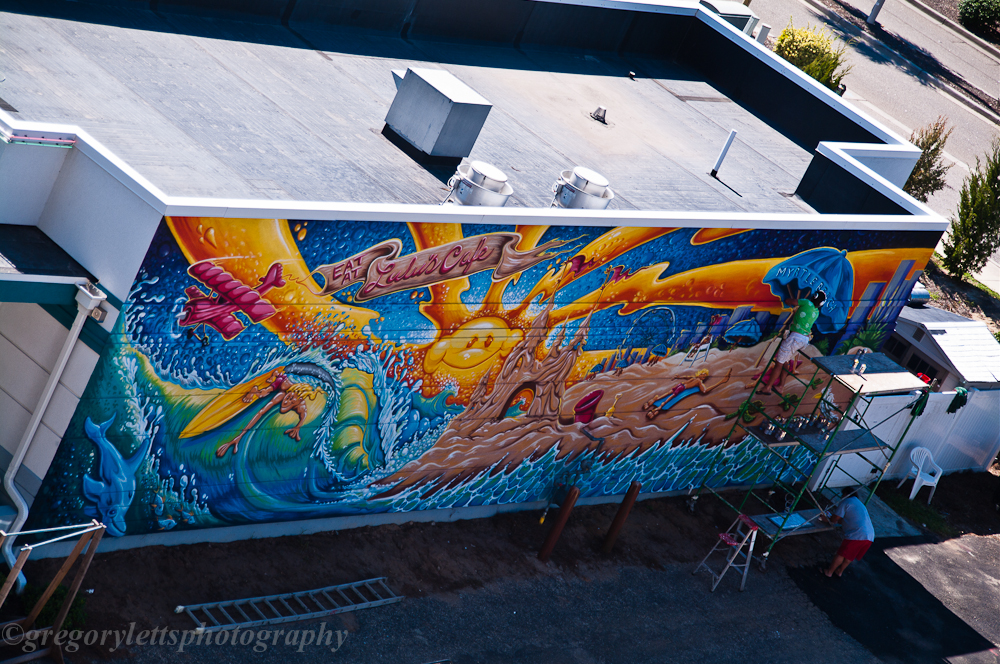 09 Oct

Lulu's Cafe 61 by 16 foot wall Mural in Myrtle Beach Day 6 to 13 – Finished!
After this mural was painted, Drew and I both were exhausted, so much so that it took us a few weeks to get the photos together so we could post this!
Thirteen days, 400 pounds of spray paint and a lot of Lulu's Sandwiches fueled the painting of this mural!
Ian Orsos, a local Myrtle Beach artist, helped Drew with moving the scaffolding, organizing the paints, and some of the painting, too.  We were lucky to have him!
Drew and Ian painted in the hot, sticky, South Carolina sun over a span of two weeks.
This was, without a doubt, the most publicized project we ever worked on.
It was featured on the evening tv news three times, in the Sun Newspaper twice and on the cover of The Herald News.  This project is also being written about in Grand Strand Magazine and on a number of online magazines, including The Digitel Myrtle Beach.
PHOTO CREDIT:  Photos taken by Gregory Letts, local Myrtle Beach Photographer.   Visit Greg's website here!
To see the Photo Slideshow, Click Here.  Here's a post on the First six days of painting Lulu's Mural (with more detail).