12 Feb

NZ Travel Log Number 0212 – Day 1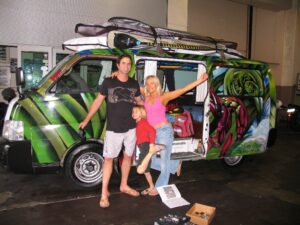 We have been in New Zealand for about a day and a half now and we haven't quite aclimated to the wind and torrential rain.
The trip started out good – Check-in at LAX was surprisingly easy – even though we had loads of stuff with us (3 surfboard bags containing 2 large paddleboards and 5 surfboards PLUS 4 bags of luggage) Air New Zealand is so cool, they didn't charge us Anything extra! (If we had been flying Hawaiian Air, they would have charged us $80 PER BOARD).
The TROUBLE started, though, about 14 hours later when we arrived in Auckland, NZ.
At the airport we had to get a cab to take us to the camper van rental.
We couldn't fit the boards in the van that came to pick us up, so the savings we got from Air NZ we spent on a SECOND TAXI to take us to the campervan rentals! One taxi carried our surfboards, the other carried us and our luggage!
We got to Escape Rentals about 8 a.m. – These campervans are way cool – they rent for cheap, and they are all painted crazy!  The nice people who work there recognized Drew as the artist and were bummed that they didn't realize he'd be here – they would love to have him paint one of their vans. We said maybe next year….
So we got a cool camper van covered in an original painting. Very loud. Drew asked me later if we looked like a bunch of dorks driving this van, or if we looked cool.  I said "if we're driving it, we're making it cool!"
Torrential rains, driving on the left side of the road, tired as hell…we drove to Raglan because Drew was dying to surf Raglan Point. We got there, and the waves were icky and no good so he took the paddleboard out (away from the locals, they aren't used to paddleboards here).  But it was a frustrating surf, and didn't last long.
We stayed at Solscape, a campground, last night and slept in the back of the van for the first time.  It was surprisingly comfy, and we slept really good with the rain beating the top of the van.
Wiggs was mad we made him do his schoolwork this morning, but then he decided to make the best of it and got it done.
We'll surf later, despite the rain, and hope for sun.
So, let me ask you this:  Is this "Living the Dream"?  Or are we crazy?
Spunk Brophy xxoo