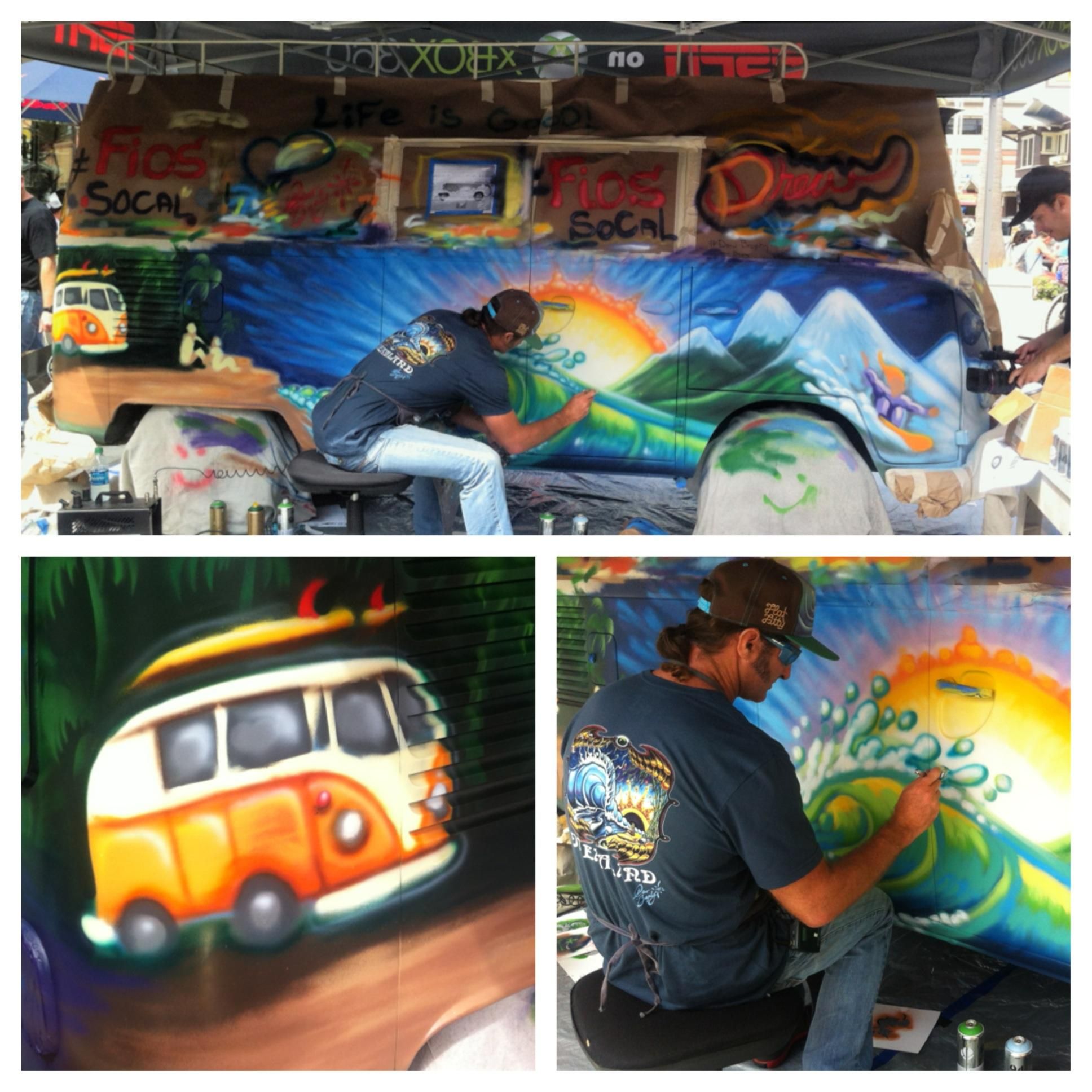 24 Jul

Verizon FiOS SoCal, a 1965 VW Bus and Spray Paint at the U.S. Open of Surf!
WHAT:  Live painting of a Verizon fiOS Vintage 1965 VW Bus at the U.S. Open!  We are giving away stickers and surfboard posters daily.
WHEN:  Friday, July 26, and Saturday, July 27, from 10 a.m. to 4 p.m.
WHERE:  ACROSS FROM THE US OPEN OF SURF, ON THE STRAND at 155 Fifth Street, Huntington Beach, CA (just across from Forever 21)
I'll be painting a Volkswagon Van, LIVE, during the U.S. Open in Huntington Beach this weekend!
The Verizon FiOS SoCal campaign wants to influence SoCal residents to conquer their creativity.  They have transformed a 1965 Vintage Volkswagen van into a mobile entertainment experience, custom-fitted with FiOS Internet and FiOS TV capability, along with 42-inch HDTVs.  (Read the Press Release here)
And I'll be spray painting it, LIVE, during the event – across from the Vans US Open, on the Strand, between Fifth Avenue and Pacific Coast Highway.
Using my favorite graffiti-style spray paint, MTN 94, and airbrush, I'll customize the van, and you can watch, on Friday, July 26th and Saturday, July 27th from 10:00 a.m. until 4:00 p.m. daily.  (Go to my Facebook Page here to see sketches and the progress as it's being painted)
You'll also get a chance to win a Lost surfboard, custom painted by me.
FOLLOW THE CONVERSATION:  Stay tuned to what's happening, the progress of the van painting and the giveaways – follow these channels:
INSTAGRAM:  @DrewBrophy and @FiOSSoCal
TWITTER:  @DrewBrophy and @VerizonCA 
FACEBOOK:  DrewBrophyArt  and VerizonCA
HASHTAGS:  #DrewBrophy #VerizonSoCal #VansUSOpen #FiOSSoCal #SurfArt
I've painted over 50 vans these past few years, including my own.
If you ever wanted to watch how it's done, this is your chance.  I'm excited to show people how, in one day, with a few cans of spray paint, you can create a masterpiece on the side of a van!
BONUS:  Verizon is giving away some cool stuff during the time I'll be painting.  Surfboard posters and stickers.
WILL I SEE YOU THERE?!   If so, RSVP on Facebook  or let me know in the comments, below.
Life is good,
Drew
PS:  Verizon FiOS SoCal has an ongoing giveaway that's just awesome – you can enter to win a custom Surfboard, Skateboard and Bike!  They are giving away one A WEEK between now and the end of August.  Enter here:  http://fiossocal.com/#area-design