24 Jan

Painting North Shore Wave Mural Day 5 – It's Finished!

Our 36′ x 15′ mural is completed, and on time!

On this last day we ran into some problems, the kind that throws Drew into a fit and makes everyone around him just quietly back away…..

First, he wasn't entirely excited about how the foilage was turning out.  But that was eventually remedied, which you'll read in detail later in this article.

Then, a mini-disaster happened…… 

Your worst fear, when painting a mural, is having an uncontrolled drip…..

Drew was up on the scaffolding, adding energy to the crest of the wave, when unexpected water dripped out of his paintbrush, onto the painting.

"Hurry, get me some towels!" He yelled, panicked.

A long drip of water melted an area of blue and green paint, and some right on the wave that Drew just finished detailing.

Heather ran over & helped him wipe it up.  This mishap added an unexpected 20 minutes of repair to the mural.  It was a scare, but somehow they fixed it.

Drew wasn't really into adding clouds at first, but Brian, the client, wanted them.

In the end, it turned out to be a great addition.Drew had fun painting these – it was his first experience painting his clouds with large paint brushes – he usually uses the paint pens.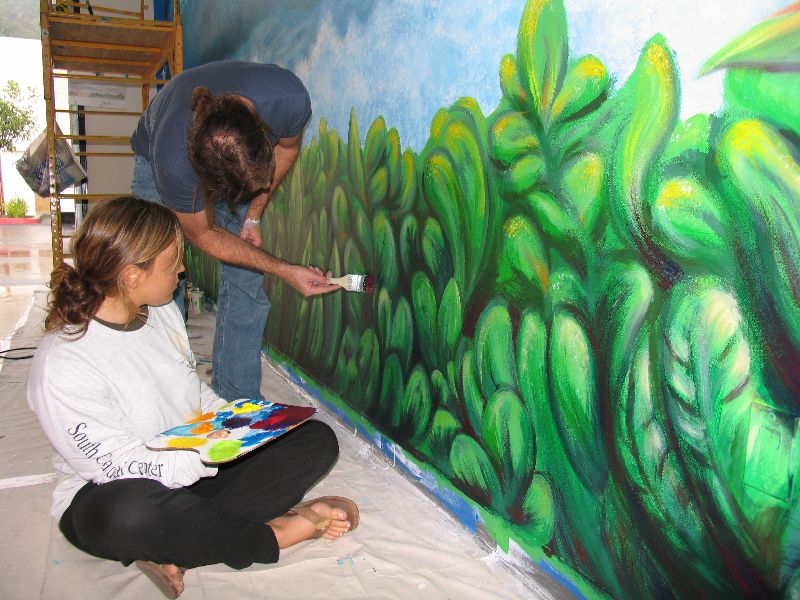 The foilage was another process.  It's a challenge to make the plants look like plants without having to add too much detail. To keep it flowing, and to make the Mural come to life, Drew & Heather worked on small areas for short periods of time, and moved around a lot.  As Drew says, "staying in one place too long on a mural will ruin it."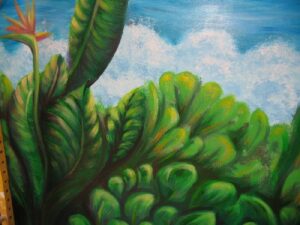 First they painted all the green, one flat color.  Next, they went in with darker colors to form the foreground.  Then they added shades of green to give it depth.  Finally, they came in with yellows to add high-lights, and then accented the dark with red and purple – thus making it come to life!
Besides a few minor issues, this mural project went quite smooth.  I think it's success is due to a few basic things:
1) – Planning:  Drew knew exactly what he needed to get started, knew what would be completed each day, and executed the plan.
2.)A committment to excellence and integrity:  We told the client he would have it done in 5 days, and he did.  This was accomplished by showing up on time every single day, and staying until 5:00.  Also by being organized and ready to go before the first day, and having Heather, his assistant, share that same integrity.
3.) Daily clean up of your mess – Drew's motto is to "never leave a trace that you've been there" – meaning, you throw your trash away, you put everything back exactly the way it was found, keep your music low enough to not disturb the occupants, and just be considerate.
He made sure the floors were cleared and swept, and he took his paintbrushes to the studio every night to wash them there – he didn't want to mess up the client's restrooms.
Brian, our client, came in at the end of the day and was stoked!  He loved the mural, and I think he probably appreciated that we stayed on schedule and kept our word.
That's the most important thing to Drew – making sure his customer is happy.  Mission Accomplished.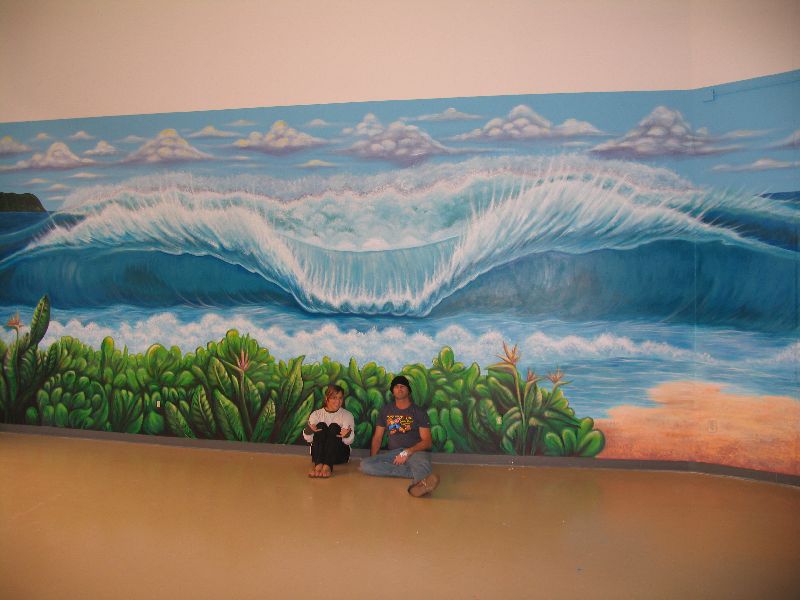 Exhausted after a long, hard week of painting, cleaning, planning!
If you liked this article, please Share it With others!