01 Aug

XTREME SURF EVENT – Myrtle Beach S.C. Aug. 1, 2008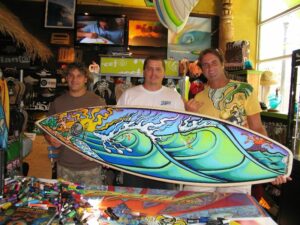 Our last tour stop on the East Coast for 2008! Drew's tired of painting, so he tricked Al McWhite into showing up and then put him to work!
Al was cool about it, though. Although we haven't heard from him since…….
Locals hung out for the demo…..Cheddar, the artist (check out his myspace page here), John the grommie surfer musician and Tate, Coastal Carolina new guy and Bonefish Grill worker.
Click "more" to see all the funny photos:
Cheddar's an artist, but hey Cheddar, why can't we see your art on your myspace page??!! You need to change that!
Drew and the lovely Jordans…..Vivian Jordan is working on getting a skatepark built in Spartanburg. The hand painted skate deck Drew's holding in his left hand was donated to help raise money for the park.