18 Jun

Eagles in the City-Painting Live in Victoria, B.C. June 19-21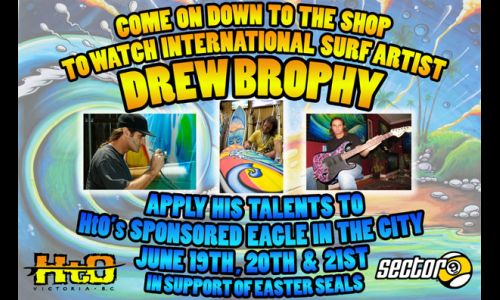 From HtO's Press Release:
Canada's oldest surf shop, HtO, invites you to come to the shop to watch renowned international surf artist Drew Brophy apply his talents to HtO's Eagle in the City.
Eagles in the City is a fundraising initiative run by the BC Lions Society to support the Easter Seal Services, an organization dedicated to helping children with disabilities throughout British Columbia.
A 7'6" fiberglass eagle will be the blank canvas for Drew to create his work of art, which will be auctioned for charity at a gala event later in the year. All proceeds will be donated to charity.
Drew Brophy will be painting the eagle at HtO Sun, Surf and Swimwear at 1314 Broad St. from June 19 – 21.  All are invited to watch as Brophy creates his art before their eyes. There will also be limited edition prints for sale and giveaways for spectators. 

HtO has been part of the Victoria cityscape for 30 years, and continually contributes to local events and charities.
 For more information about this event, please contact: Mick Sheinberg, HtO Marketing and Development 250-920-5511 mick@hto.ca