14 Jun

K-Coast, Ocean City, Maryland! June 14, 2008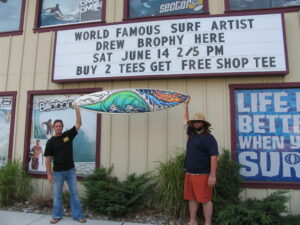 We had a great time at K-Coast yesterday (Sat June 14th). Drew's painting demo drew a great crowd of people who came to watch him paint and ask him questions….oh, and to get some free stuff!
Ocean City MD is one of my old stomping grounds from back in the day. It was great hanging with Chris and Mark "hairball" – they are awesome and the best part – they have just about every product of Drew's in their store – the sunscreen, the posters, and a great deal of t-shirts. Oh, and of course the DVD's.
An artist named AJ came and Drew put him to work helping him to paint the shop board that Drew was painting for K Coast. AJ has some crazy dreads in his hair. He was stoked to help…..