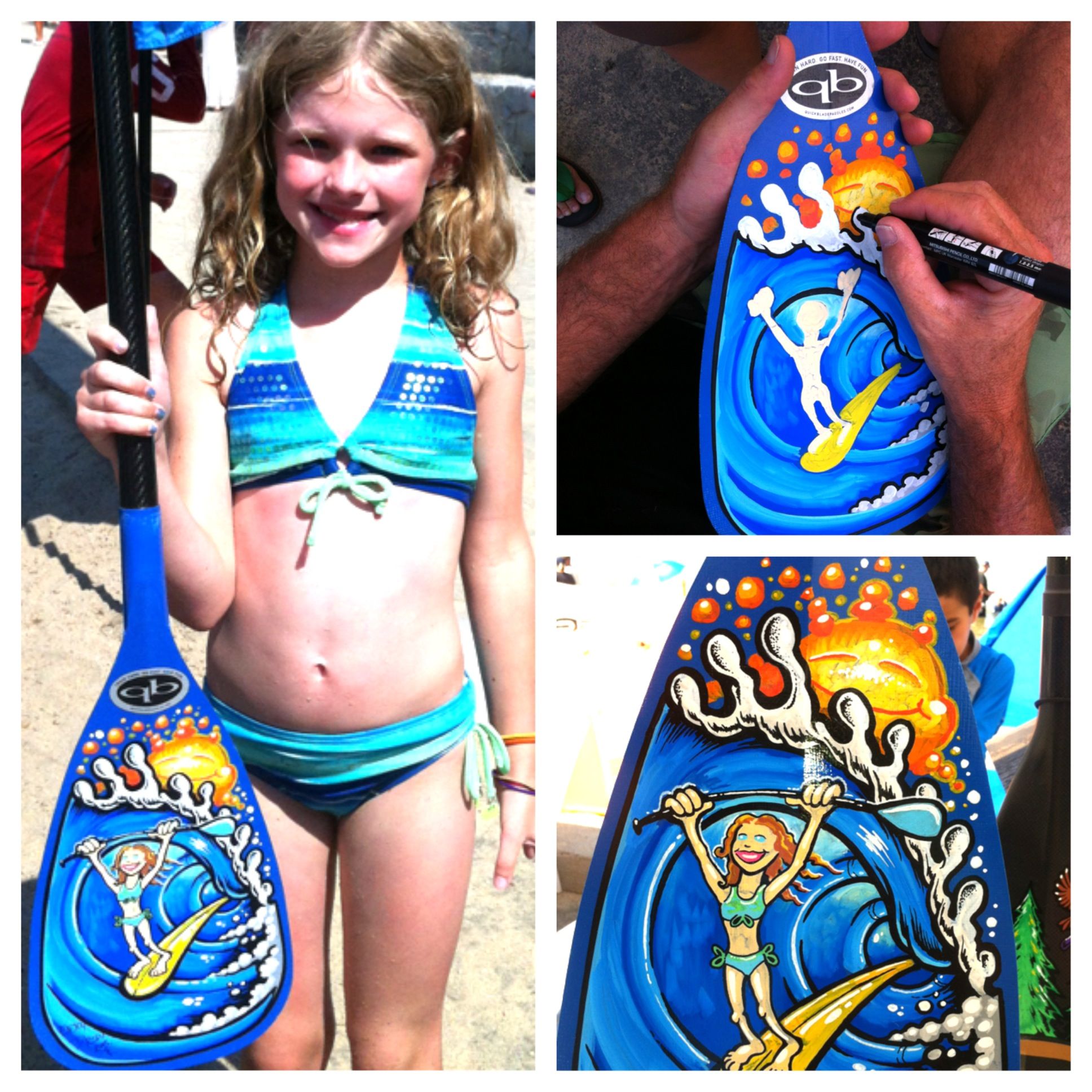 11 Jul

Kids Design Paddleboards at Drews Art Grotto – Young Artist Wins Custom Riviera Paddleboard at Race the Lake of the Sky Tahoe

With help from generous sponsors, we hosted a KIDS ART GROTTO at Race the Lake of the Sky Standup Paddle event in South Lake Tahoe last week.

The original idea was to generate artistic activities for the kids during the two day event.

Over 200 kids drew, painted and designed their own paddleboards!

But this turned out to be so much more then an art activity!

On the last day, Riviera Paddlesurf decided to give prizes to three kids for the best "Paint your own Riviera Paddlesurfboard" artwork, and give one CUSTOM RIVIERA PADDLEBOARD to the grand prize winner!

At events like this , I always end up painting something, live, for someone.   This draws a crowd and inspires

others to want to create, as well.  By having a booth with supplies where inspired kids can join in, it was a perfect combination.

Every kid that joined in the Art Grotto Booth was informed that they can design their very own Riviera Paddleboard.  There were no rules; just "Make it Look Cool!"

(You can download the "TEMPLATE Design your Riviera Paddleboard with Drew Brophy PRINTOUT here)

When each little artist finished their piece, they got a free "Drew Brophy Art Stickers" and I taped their design on the tent.  By the end of the event, the entire tent was covered with art.

I painted paddles as special awards for the athletes and Maria's Riviera Cruiser, while the kids painted on every bit of supplies that we brought!  It was great to witness the creativity that spills out of these children.

At the end, I was asked to choose the three best Riviera paddleboard designs.

Three young artists clearly stood out; the one thing they all had in common is that they were in my booth, painting, the entire weekend!  They obviously have the skills and the passion to be great artists.

The winners were Georgia, GiGi and Ronen.  Each one received a Sunrise print, signed by me, and a full set of Uni Posca paint pens.

Only one of the three winners would get the grand prize:  A custom Riviera Paddlesurfboard with their own design painted on it!

And that winner was Georgia, a young girl visiting Tahoe from Florida.

When Georgia's name was called as the grand prize winner, she jumped up and down and screamed!

We are grateful to the Sponsors who helped make this happen:
Uni Posca for providing the paint pens and funds for additional supplies;
Sharpie for sending packs of Sharpie Brush Tips and their new NEON fine point pens;
Riviera Paddlesurf, for providing the "Paint your own Riviera Paddlesurf Board" materials and the grand prize
South Lake Tahoe Standup Paddle Surf shop, for providing the 10×20 booth, table and chairs!

Fredrix Canvas for providing canvas cut-outs for the kids to paint on

ROXO, for sending us bracelets with "Drew Brophy art rocks" to give out to the kids (and adults).  Everyone loved them!

And, to my wife Maria, who worked without a break for 8 hours each day, running the booth, getting the sponsors involved and organizing the entire thing.
Together, we made a lot of kids happy that weekend!
Life is Good,  Drew