05 May

Kids – Paint with Drew! July 25, 2009 Ocean Institute in Dana Point CA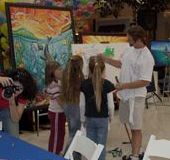 Kids:  Paint with Drew!  Learn to paint with water-based paint pens, Drew's Medium of choice!
Join him for a 2 hour class and up close painting session.  Only $15.00  (Hurry & sign up before it sells out!)
Kids are encouraged to bring their own surfboards, skateboards, skim boards, or whatever they want to decorate.  Of course, we'll have things for you to paint on as well.
WHEN:  Saturday July 25, 2009  WHERE:  Ocean-Institute Dana Point
PRICE:  $15.00 (member's get discount)
AGES:  Ages 5-12 class is from 10:30 -12:30 / Ages 8 + class is 2-4 p.m.
(Parents must be present at all times for kids under 12)
TO REGISTER:  Go to: https://ocean-institute.netcommunity1.com/SSLPage.aspx?pid=616&srcid=393
Consider this:  Buy Drew's paint pen kit with the DVD "Paint Pen Techniques" prior to class so you have a head start!