20 Jul

MCKEVLIN'S SURF EVENT – FOLLY BEACH July 20, 2008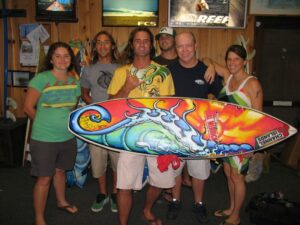 What Went Down: It was a busy day, really hot and the waves were good! We had a good crowd, and most of them stayed all afternoon. McKevlin's sold out of their paint pen packs and moved quite a bit of Drew merchandise. Wiggs got kids to paint, and we had some family & friends show up. Folly Beach is a cool place…..READ ON: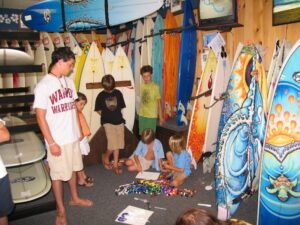 Here's Wiggs, instructing the grommies on how to use the paint pens…… "remember to always put the cap back on"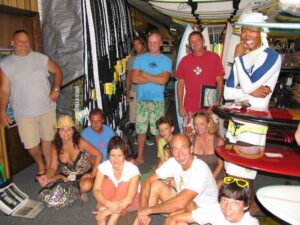 Here's a sampling of the people who watched the painting come to life. The lady with the hat is Sonia – she and her hubby own Main Street Bike Shop in Summerville. They carry Drew's Nirve Bikes. They were a fun couple – she shares my penchant for Victoria Secret clothes (See her bathing suit).
Wiggs ran around the store so much that I had trouble containing him.  But TIm McKevlin was cool about it.
Finally, Wiggs layed down under a surfboard in the rack and took a nap!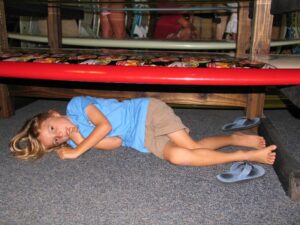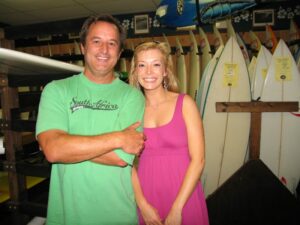 Brother Tommy and his Lovely Leah hung out for the day…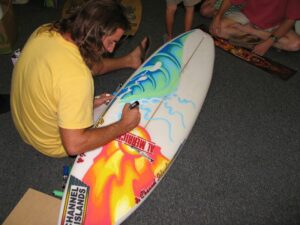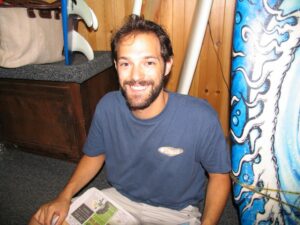 Gnarly Charlie, drummer for The Cancers. Kick ass music!