02 Jan

Surf Expo Jan 2011 Tees and Licensees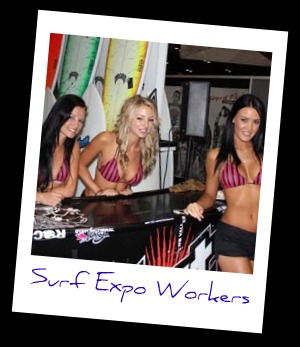 SURF EXPO JAN 6-8, 2011 ORLANDO, FLORIDA
Surf Expo has been a big part of my art career for the past twenty years.
Every January the greatest show in Surf brings together surf companies and surf shops, girls in bikinis, stand up paddleboarders and professional surfers – everybody who is anybody in surf will be there.
I first went to Surf Expo as a kid, sneaking my way in with stolen passes to get a glimpse of all the cool stuff behind those big convention center doors.

It wasn't long before I was showing people my drawings and painting surfboards on the showroom floor.
NOW, I find it amazing that all these years later, I have a number of companies representing my art at the show.
The organizers at Surf Expo even asked me to design this show's t-shirt, which was an honor for me to do.
This was another milestone, kind of like doing the artwork for the Pipemasters, that I've reached.
I wanted to create something with a lot of movement that captured the excitement and energy of Surf Expo.  I painted what surfing is;  it's really simple – sun and surf.  I named it GALAXY WAVE and the original is painted on canvas.  I hand-drew the Surf Expo lettering separately.
The t-shirts will be available for purchase at Surf Expo only (sorry)!  I'll be at Surf Expo to support my licensees and catch up with some old friends.
Also, I'll be signing my VAHINE posters at the Hinano Tahiti booth on Friday.  (They're free – come by and get one)
HERE'S A PARTIAL LIST OF EXHIBITORS THAT WILL BE SHOWING MY LICENSED PRODUCTS:
HINANO TAHITI Booth#346 Come by and pick up your FREE POSTER!  Hinano Tahiti had posters of my painting VAHINE printed and will be giving them away at Surf Expo.
I'll be in the booth signing the posters on Friday from 2-4 p.m.
Hinano is using some of my artwork for their 2011 clothing line.  Read Island Inspiration and Hinano Tahiti for the back story on my deal with Hinano apparel.

EASTERN SKATE SUPPLY (ESS) Booth#785 Will be showing my Palisades Skateboards line and my Indo Board balance trainers.
COASTAL CLASSICS (Streamline Design) Booth#2228 Click on My art + your logo = awesome tees to see the newest designs available.  There are many of my name-drop t-shirt designs to choose from.
RAINBOW FIN COMPANY (RFC) Booth#616 They carry my Indo Board Balance Trainers
JGR COPA Booth#2269 – They manufacture my skimboards
I hope to see y'all there – Life is Good – Drew