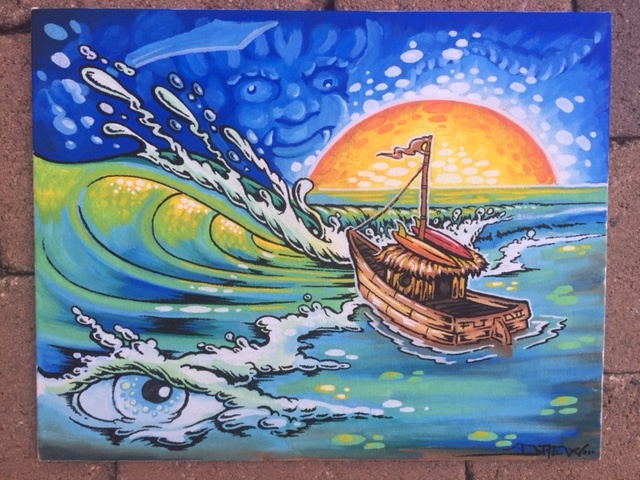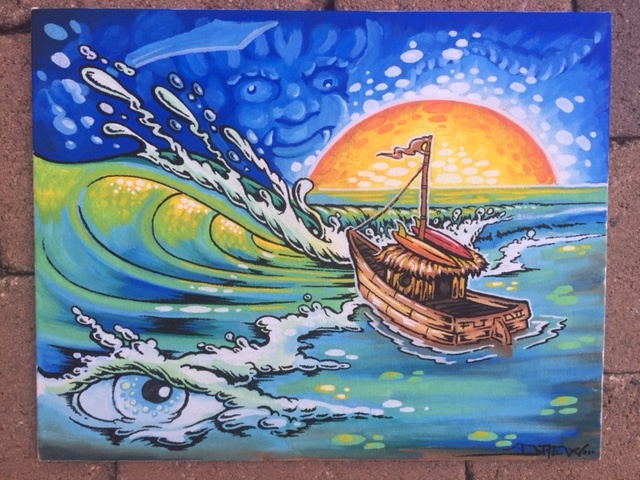 FOR 50 DAYS, I'M CREATING 50 PAINT STUDIES that reflect 50 things that fascinate me.
This is #38 of 50 in the #50Paintings Paint Studies series.
TITLE:  CHASING WAVES WITH FUDO
SIZE:  11″x 14″ paint pen on Fredrix Pro Archival Canvas Board.
Today's painting is inspired by the idea of being on a boat,

chasing 

waves, in far away places.
I added something different in the sky, inspired by my good friend Mark Longenecker (well known tattoo artist from Cocoa Beach, FL, and InkMasters TV Show star).
Mark was painting alongside me this morning, creating his own version of the Japanese Diety called FUDO.  So I added FUDO into my sky.
FUDO is said to convert anger into compassion and cuts the ties of negative feelings to liberate us from the suffering through self control.
This painting study is available – SOLD to Elsie in Mission Viejo, CA.
One of my goals with this series is to make original art affordable for those who want it.   If interested in adding tomorrow's to your collection, please email info@drewbrophy.com or text or call 949-678-8133 asap!
I hope you enjoy this series.  Thanks for reading!
Life is Good –
Drew Brophy
Artist, illustrator, surfer
"It's my job to make things look cool."