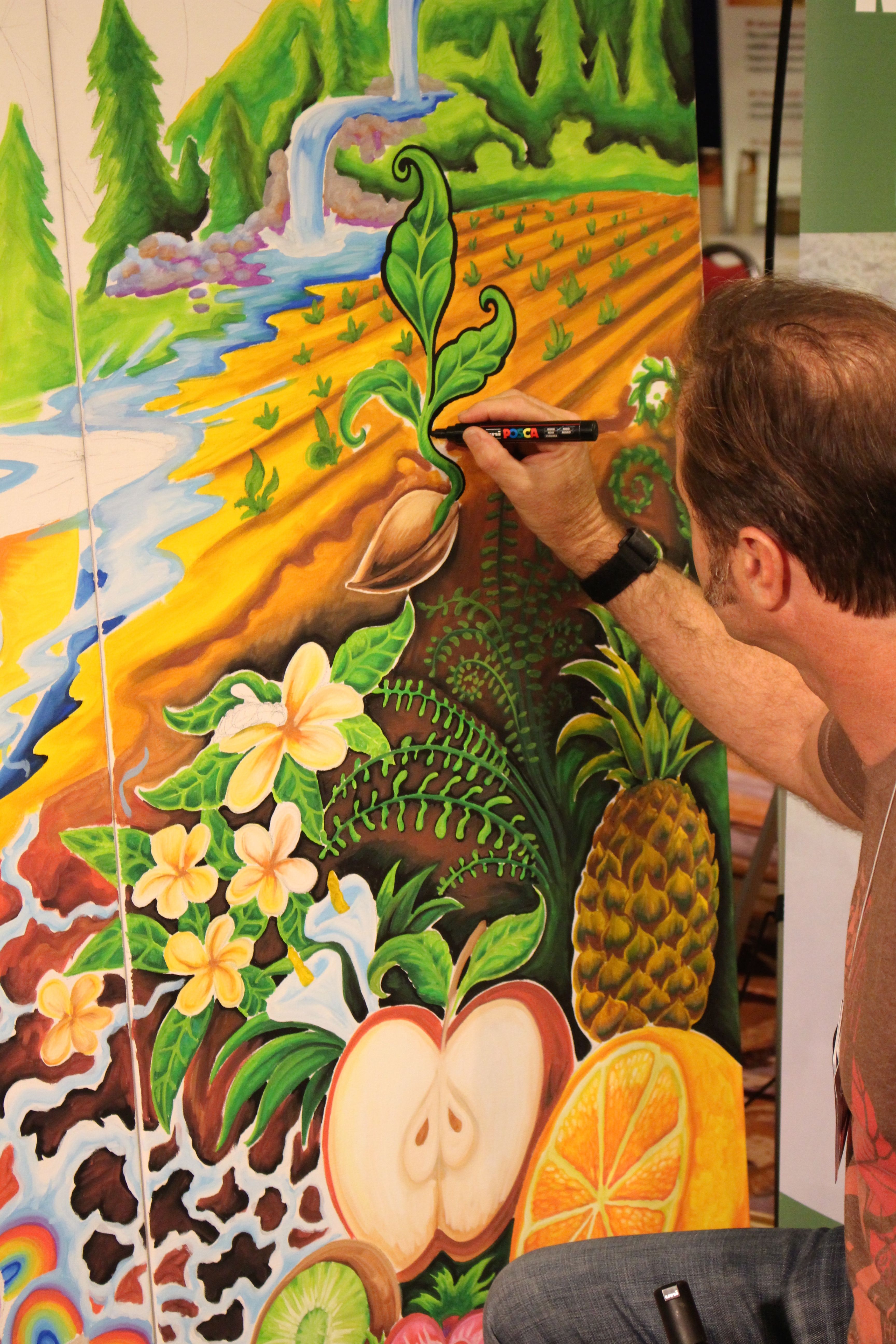 CASE STUDY:  Greenfield Naturals Illustration and Conscious Life Expo Live Mural Painting
WHEN:  February 2015
CLIENT:  Greenfield Naturals
MISSION:  Greenfield Naturals was exhibiting for the first time and wanted to have a strong draw to get people in their booth during the Conscious Life Expo in Los Angeles.
They also wanted an illustration that would convey their mission and accurately describe their products in a way that the viewer would understand it.
They wanted the mural artwork to be designed so it could be used after the event, for multiple uses such as product packaging, marketing and advertising.
SCOPE OF PROJECT:
1 – ILLUSTRATION ART FOR PRODUCT PACKAGING, MARKETING AND ADVERTISING – Intensively research Client's products and the molecular structure of water.  Design an illustration that would capture the essence of Greenfield Natural's water solutions and how it works.  (Their products are used for molecular restructuring of water, using natural electromagnetic frequencies.)
Design the illustration so that it is suitable for multiple uses, such as packaging, website, merchandise and advertising.
2 – LIVE MURAL PAINTING – Paint the illustration art (mentioned above) on a mural, live, during the expo.  Generate an interest by drawing people to the booth.  The mural was painted over three large gallery-wrapped canvas, making a 6' x 6' mural.  After the show, get a high res of the mural and re-work the illustration for multiple marketing uses.
RESULTS:  Attendees could not walk past the Greenfield Naturals booth without stopping to watch the art come to life before their eyes!  Two of the most influential scientists speaking at the event were drawn to the booth and engaged in discussion with the Client.  The energy of a vibrant, live painting gave Greenfield Naturals an opportunity to engage and discuss their products with attendees.
Many attendees wanted their picture with the mural, which had the Greenfield Naturals logo prominently placed so that it will show up in photos.
Greenfield Naturals had an extremely successful showing.  And they were able to take the illustration art and use it for multiple products for packaging and their future marketing needs.
Mission Accomplished!