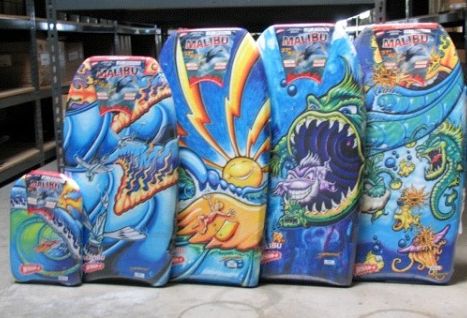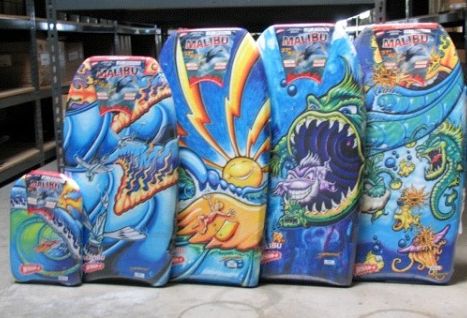 CASE STUDY:
Revitalize WHAM O's Boogie Boards utilizing Drew Brophy art & packaging
WHEN:
2001 through 2008
CLIENT:
Wham O Toy Company
MISSION:
REVITALIZE existing Boogie Board products; make them authentic enough to be accepted by surf shop retailers.  
Wham O sales people had a problem in early 2000;  they couldn't convince core surf shops to carry their Morey Boogie Boards.  Surf shop owners wanted authentic surf style products, and most felt that the Morey Boogie Boards weren't "core" enough for surf shop clientele.
Drew designed a complete line of Morey Boogie Boards, which bore his name.  Immediately, sales sky rocketed.  Surf shops began carrying the new Boogie Board line.  In less than 3 years, the Brophy-line of Boogie Boards were sold en-mass throughout the world.
RESULTS:  According to Wham O designer, Petey Peterson, the Brophy-line of Boogie Boards stand out as the most successful body boards that ever retailed, in history, to date.  Mission Accomplished!
Testimonial from Wham O's Morey Boogie Board designer Petey Peterson:
"Drew's art defined our best-selling line of Liquid Force Wakeboards called the Trip Series back in 1996. 

We worked together for years, building an amazing range of Morey Boogie Boards (for Wham O) that featured Drew's original concepts and unique background effects. These stand out as the most successful body boards that ever retailed – EVER.  

It is not a coincidence that Drew is the leading artist in today's surf and skate scene. His art is like gold.  He is the Real Deal and I am blessed to have had the pleasure to work with him through these last two centuries!"  Michael "Petey" Peterson, Designer