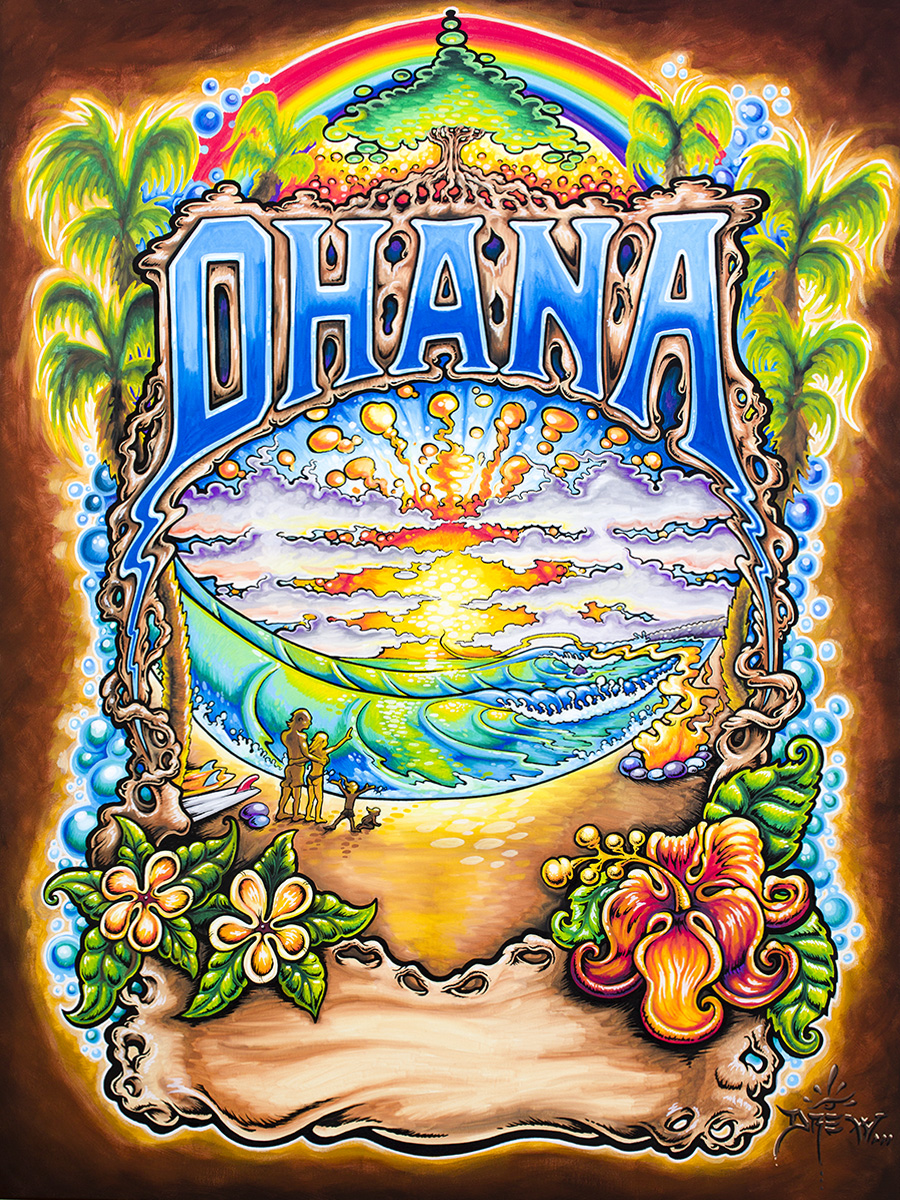 If I'm not on tour , I'm in nature somewhere, usually some kind of ocean.  It's a tremendous opportunity to be able to spend your life being surrounded by nature."   Eddie Vedder
As huge Pearl Jam fans, Drew and I were so excited when E
ddie Vedder's people called to have Drew create the artwork for Eddie's new live event, the Ohana Festival in Dana Point (happening this weekend).
Eddie liked the work that Drew did years ago on the Pipemasters' surfing contest poster, and so he wanted Drew to be the guy to create his Ohana Festival art.
The Ohana Festival is probably the biggest thing to happen to this little area in a long time – it's a two day event with a great musical lineup, including Eddie Vedder himself, Lana Del Rey, Mudhoney, Elvis Costello, and so much more!
The artwork was designed to capture the essence of being at the beach with your family, in its simplest form.  The beaches in this area are beautiful and special, and we need to treasure it.  
Proceeds from this event will benefit the San Onofre Foundation, a small group of people who work hard to preserve the San Clemente state beaches and parks;  San Onofre State Beach, all of Trestles, and miles and miles of natural trails, which hosts thousands of surfers and nature lovers every day.  The San Mateo Creek watershed, located at Trestles, is the last intact water shed in Southern California.  It connects Trestles to the Cleveland National Forest; basically connecting the beach to the mountains!  These are areas that need to be preserved and treasured; a natural link from the ocean to the mountains.  It's only fitting that Eddie Vedder cares about these surfing beaches; he's a surfer and a nature lover himself.


Ohana Festival includes an exclusive Luau and auction Friday night, presented by Eddie Vedder and Kelly Slater, with proceeds going to the San Onofre Foundation.  Drew will have several art pieces in the auction, including the original artwork painted for the Ohana Festival.  Drew and I both will be there.
OHANA FEST IS THIS WEEKEND!  It's not too late to get your tickets – we will be there with our kids.  Hope to see you there!
OHANA ARTWORK CAN BE YOURS – NEW RELEASE AS A LIMITED EDITION
Drew has rele
ased this artwork as a limited edition print on canvas in two different sizes (see here).
If you opt for embellishment, Drew will hand-paint your family name in the sand on the bottom of the art piece.  (See this video on Facebookof Drew embellishing a print with a family name on it.)
Each one is numbered and hand-signed by Drew.
You can ORDER ONLINE here.
Are you going to Ohana Festival this weekend?  Leave a comment on the blog and let us know, we'll look for you there!
Maria (for Drew)*If you have any questions, feel free to call me 949-678-8133.
THE MEANING OF 'OHANA:  The word ʻohana means "family" in the Hawaiian language, but in a much wider sense, to include not only one's closer relatives, but also one's cousins, in-laws, friends, race, and other neighbors.

But a quote from the cartoon movie, Lilo and Stich, has an even better definition of Ohana that helps you to feel what the word really conveys:  "Ohana means family. Family means nobody gets left behind… or forgotten."