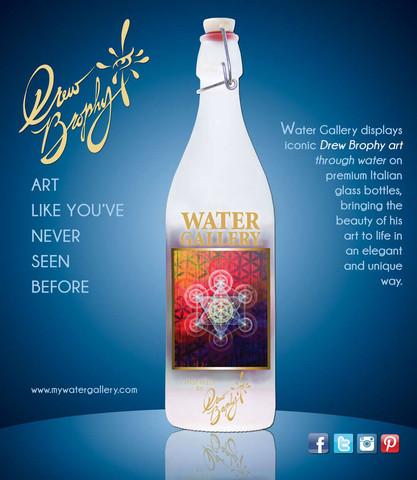 All living things possess the magical ingredient called water, making it the most important substance to life on earth
ANNOUNCING:  Release of METATRON'S CUBE art on premium Italian glass water bottles.  (And a FREE PINT GLASS if you order this week!)
My Water Gallery produces  glass water bottles that beautifully displays the artwork of Wyland and Guy Harvey.  So I was very excited when Kenny Laskan, Water Gallery owner, asked to license my art as well.
I love having a way to showcase my best work on a quality, premium product.
Metatron's Cube is one of my favorite paintings for so many reasons. (Keep reading for the meaning behind it.)
But first, I want you, my readers, to get your free pint glass that My Water Gallery is giving away to the first 100 people who order a bottle!
If you pre-order my glass bottles this week, you'll get a free pint glass 
(shown to your right).
There are only 100 pint glasses though, so place your order quick.
NOTE:  If you like Sacred Geometry Art, please sign up to be on my Sacred Geometry art newsletter, here.
ABOUT METATRON'S CUBE ART:
The art on the bottle is printed from my original painting titled Metatron's Cube.  It is mixed media on gallery wrapped canvas 60″ x 30″ and currently hangs in my home.  (Prints are available here.)
Some say that just viewing sacred geometry artwork will raise your inner vibration, creating more inner peace, joy and love for your life.  I think this is one of the reasons I love painting it so much.  The higher your vibration, the greater your joy and all good things come from that.
As a surfer, I've been strongly pulled to create sacred geometry art, as it visually demonstrates a deeper understanding of what connects us all to nature and the physical universe.
Metatron's cube is a three-dimensional shape created from the center points of the thirteen circles of the Fruit of Life, which is created from the Flower of Life pattern, which is found in all living things.  Water molecules structure themselves in this same pattern.
Within Metatron's Cube contains the blueprints of the five platonic solids; these are the building blocks of all matter.   This shape beautifully visualizes the simplicity of our universe, scaling infinitely larger and smaller.
From my studies of water and how it's structured, I've come to understand thatall living things possess the magical ingredient called water, making it the most important substance to life on earth.  It rises to the sky soaking in the sun's rays, it rains down upon the earth on the mountains where it collects information as it travels through streams and rivers on its way to the sea.  Water cleanses itself in a natural cycle of change.
Electromagnetic information given off by the sun's rays and the earth's minerals is vital information which are the building blocks of life, and are carried in the molecular structures of water.  These beautiful, complex structures, as seen in snowflakes, are the recordings of all-that-is and ever was.
It is crucial that we are mindful with how we use water, how we care for it and how we consume it, using integrity and great care.
I know, this is deep stuff, but it's what I am contemplating most of the time.
About the bottles:
They are premium Italian glass water bottles with my art hand-applied, with natural inks and dyes, in the U.S.  Made and distributed by My Water Gallery.  Three % of the sale of each item goes to my chosen charity, Waves for Water.
ORDER YOUR OWN UNIQUE METATRON'S CUBE WATER BOTTLE AND GET A FREE PINT GLASS, HERE.
---
HOW WE QUIT SINGLE-USE WATER BOTTLES:
As I mentioned in my last post, a few years ago my family and I swore off single-use plastic water bottles.  The decision to never again buy a bottled water came after we watched this amazing video called "The Story of Bottled Water."  (Watch this one with your kids)
I received a lot of emails from people, asking me "how do you get by without buying water bottles."  So I thought I'd share the answers with you.
We only drink from refillable bottles and take them everywhere we go. We bought a reverse-osmosis filter for our kitchen sink and we fill up from there.
In 4 years I estimate that by not buying them, we have prevented 5,000+ plastic bottles from going into landfills.
We did it for our health and for the environment.  (Plastic leaches into your water, which is harmful to your body, and plastic does not break down in landfills.)
You would think it could be hard to never buy another bottled water again, but it's easy if you plan ahead.
One habit that has made it easy for us to never have to buy a plastic water bottles is to keep a 5 gallon jug of drinking water in the van at all times, along with refillable drinking containers.  That way we always have water on the road with us.
---
What do you think of the Metatron's Cube water bottle?  What do you like about the design?
And do you store water and drink from a glass water bottle?
Respond in the comments below and let me know.  Also, if you have any tips on how to cut back on single-use bottles, share that, too.
As always, thanks for allowing me to keep in touch.
Life is Good – Drew
Drew Brophy
Artist, illustrator, surfer
WATCH THIS VIDEO, IT WILL CHANGE THE WAY YOU DRINK WATER FOREVER: