FOR IMMEDIATE RELEASE:
ANNOUNCEMENT:  Surf Lifestyle Artist Drew Brophy is launching newly developed art categories at Licensing Expo, June 12-14, 2012, in Las Vegas.
At Show Events:  Drew will have a poster signing and live painting demonstration in booth #4811 daily at show!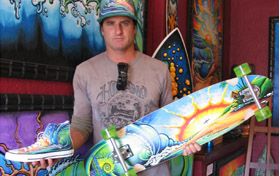 PRLog (Press Release) – May 22, 2012 – The economy has turned upward, and Artist Drew Brophy is celebrating by revealing all new art at the Licensing Expo in Las Vegas.  The show, to be held June 12-14, 2012, is where the world's popular brands exhibit their latest creations to manufacturers.
Drew Brophy properties are represented by agency Son of the Sea, Inc.
Known for surfing big waves and adventuring the globe, Drew Brophy's art has been represented in the niche of surf art and action sports for over 25 years.  He has licensed his art to many big brands, including K-Swiss, Converse, Wham-O, Sigg, Walter Foster and Hard Rock Casino.
Now, Drew Brophy will reach a broader demographic through newly created art, which will be revealed for the first time at Licensing Expo.
His new creations include an Epoch Earth line, sun & fun theme for kids and  his inspiring brand dubbed "IYI" which stands for "Inspire Your Imagination."
Maria Brophy, CEO of Son of the Sea, Inc., attributes over 60% of their licensing success to first contact at Licensing Expo events.
"Licensing Expo allows us to meet the "who's-who" in licensing.  With each exhibit, we walk away with at least five or six new deals that we otherwise wouldn't have."  Maria Brophy says.
"This year, we will double that, as we are launching new art categories designed specifically for mainstream tastes.  Drew's surf-themed art will always be available, but we wanted to broaden our reach beyond the niche. "
The Brophy's have a few "not to miss" events at their booth #4811 at Licensing Expo:
Poster Signing and Giveaway:  Drew will be signing quality posters of his popular painting titled "Sunrise" at his Licensing Expo Booth Number 4811 daily from 12–4 p.m.
Live Surfboard Painting Demonstration:  Drew will demonstrate how it's his job to "make things look cool" by painting in his Booth Number 4811 daily from 12-4 p.m.  Attendees can watch as Drew paints on a surfboard and other fun items live!
Manufacturers should schedule appointments to review Drew Brophy's portfolio at the show by emailing info@drewbrophy.com or calling 949-678-8133.
Brophy will be in booth #4811 from 10 am to 5 p.m. on show days.
Learn more about Licensing Expo at http://www.LicensingExpo.com.
Learn more about Drew Brophy at http://www.DrewBrophy.com.