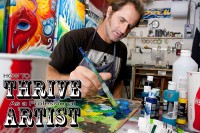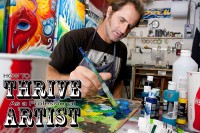 On Friday, November 1st, 2013, at 1:00 p.m. , I will be giving a talk in the George Hitchcock lounge entitled, "How to Thrive as an Artist."
This talk is geared toward aspiring artists, students, and creative entrepreneurs, as I will be explaining how to make following your dreams a viable career path with concrete steps based off of of my own life and business experiences, having gone from an unknown surfer to the top-selling surf artist in the world.
Following my talk, Tom Pohaku Stone, renowned native Hawaiian surfer and shaper, will be performing an alaia surfboard shaping demonstration out of a beautiful redwood plank that has been generously donated by Big Creek Lumber.
On the evening of November 1st, as part of the Salt of the Earth event at UC Santa Cruz, there is a screening of the new film titled Hawaiian: The Legend of Eddie Aikau , plus live music from The Shapes. This will be held at Rio Theater, 1205 Soquel Ave, Santa Cruz,  at 6:45 pm.
For more info on all of these events, go to the Salt of the Earth website: http://saltoftheearth-ucsc.blogspot.com/
WHAT:  Lecture titled "How to Thrive as an Artist"
WHO:  Open to the public
WHERE:  PORTER COLLEGE, UCSC, in the George Hitchcock Lounge
WHEN:  Friday, November 1, at 1:00 p.m.   There will be a question and answer session immediately following the talk.