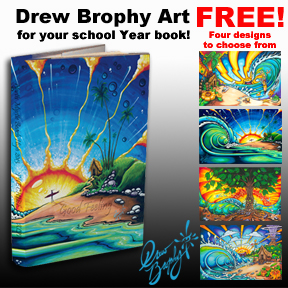 Recently several yearbook committees called me, asking if they can use my art to have printed on the cover of their book for 2012/2013.
Of course, I said yes.
Then I got a great idea:
Why not make it available to anyone?!
So here's the deal:
If you like my art and want to have it printed on the cover of your yearbook, you can use it for free!
I'll send your school the hi-res image of the art you choose, in a photoshop (pdf) file.
At this time, there are four images to choose from.  (Next year I'll add new ones.)
Get your free Yearbook Cover Art in 3 Easy Steps:
1.  Choose the image you wish to use (see the 4 art pieces to choose from, below)
2.  Download and Print out the Drew Brophy Yearbook Cover Art License Agreement, indicate the name of the image you choose, have someone at the school sign the Agreement, then email it to me at info@drewbrophy.com.
3.  Within 72 hours I'll email you the hi-res Photoshop File art for your yearbook cover.  (You can then have your graphic department size it and drop in your school name and logo.)
If you can, I'd love to have space for an advertisement in your yearbook.  Let me know.  (This is a request, not a requirement.)
Questions?  Email info@drewbrophy.com or call 949-678-8133.
Life is Good,
Drew
CHOOSE FROM THE FOLLOWING IMAGES