17 Dec

5 Tips to a Profitable $ Art Exhibit

How do you ensure that the art show that you put on will be profitable?  (And by "profitable" I mean that you earn more in art sales than you spent on wine!)

Here are my 5 Top Tips:

1.)  DON'T invite your friends.  Invite Buyers.  I know, that takes all the fun out of it.  But when's the last time your friends bought art from you?

SIDEBAR:  If you invite your friends, then you have what we call a "bros show" not an "art show", which is a party where friends drink your wine and pat you on the back all night.  An "art show" is where serious buyers show up, ask you about your art, and open their wallets.

2.)  Create an Atmosphere:  You want your attendees to FEEL something when they walk into your show.  Create a vibe.  I do this with decorations, candles, and small details like nice napkins, decent wine and aromatherapy.  Also, the entrance is very important – make it inviting and memorable.

3.)  Greet EVERYONE at the door – Make your guests feel welcome.  If it's a large crowd, you can't be at the door and walking around, too, so have someone else greet everyone at the door.  When someone arrives, say "thanks for coming – I'm glad you're here."  When they leave, thank them for coming.  Oh, and ask everyone how they found out about the show.  You'll get some great data from that question.

4.)  Avoid the HODGE PODGE:  Don't put everything but the kitchen sink on the wall.  Have a well thought out arrangement of artwork that is pleasing to the eye, goes together, and framing that also looks good together.  We prefer to have all the same frames, that way we have a cohesive look.

5.)  Sell your art – Sure, this is a no-brainer, but I'm amazed at how many artists go to their own shows and seem disinterested in selling art.  They just want to party.  If you followed step #1, then the people there want to buy.  So sell it to them!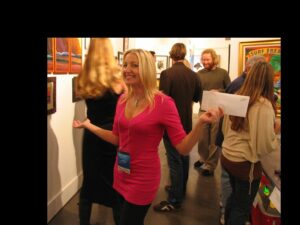 I want to see you succeed!  Thanks for listening, and please give me comments & feed back.
Yours Truly,  Maria "Spunk" Brophy