21 Jul

Isle of Palms – Hangin' with Travis Jervey and Bryce Donovan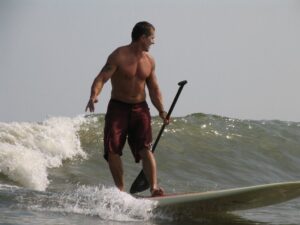 Our jobs are hard, mine and Drew's. We have deadlines to meet, contracts to negotiate, meetings, and sometimes, well, we have to hang with the press.
Today, our job was to take The Post and Courier's very funny "It Beats Working" columnist Bryce Donovan on a paddleboarding and paddlesurfing expedition. The famous, Former American Football Tailback Travis Jervey happened to join us. READ ON: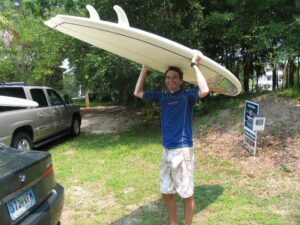 So, columnist Bryce Donovan shows up a little frazzled – he was running late and got some bad news earlier. But he showed up ready to change into his boardies and rash guard. He looked like he hadn't been out in the sun in about 3 years, so I'm glad he used sunscreen. Anyway, he was game for anything, which is cool when you are the skinny guy next to two experienced watermen like Drew and Travis!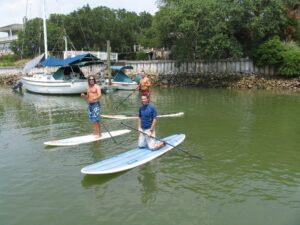 They paddleboarded in the flat waters of the inlet at The Isle of Palms. They did that first so that Bryce could get the hang of balancing on the stand-up paddleboard. Word is, he did great!
Later, we all went surfing at 28th Street. The waves were small but had great shape, were glassy and it was fun. Bryce caught quite a few waves, very impressive!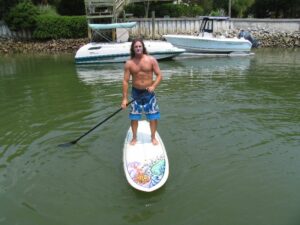 Travis had the time of his life, and vowed to only surf on the paddleboard from here on out. He was stoked! I caught a ton of waves myself……
It was a fun day. Of course, Wiggs was doing the usual – diggin in the sand!
Bryce will be writing about his experience in the Post and Courier on Thursday, July 24th, 2008. Read his "It Beats Working" column!