30 Jul

North Inlet Kyaking with Surf the Earth Crew!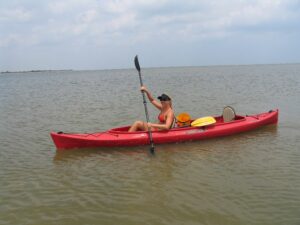 This has got to be our best day this summer! We left Hobcaw to go Kyaking in the North Inlet to a desolate barrier island called North Island.
Scott and Deanna Benston took us on this trip. They have these excursions you can sign up for through Surf the Earth. There's usually a waiting list – now I know why! It's amazing, the scenery, the wildlife, the experience.
Check out photos – and the SHARK we saw! Click on more:
I think this is the first time I was in such quiet, serene stillness outdoors in a long time.There were a few couples and a lot of kids. We should have brought Wiggs – but we didn't know other kids would be there……. We missed him real bad that day, especially when the flounder was caught. Wiggs loves flounders and thinks they are too cute to eat….