25 Jul

SURF CITY EVENT – Myrtle Beach, SC July 25, 2008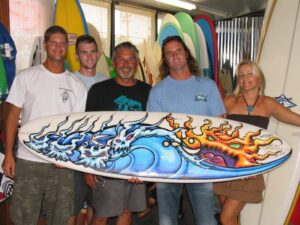 We came, we painted, we kicked ass! Drew painted a board for Mark Allison's shop – he'll proudly hang it somewhere conspicuous….
Wiggs ran around and told people what to do while our neice Sophia tried to look cool….(By the way, she's single and cute and surfs good, but I'll kick your butt if you ask her out)
Jenn Parker from The Sun News came and took video and will be writing an article for tomorrow's SUN NEWS Business Section. Go to this link to read it. READ ON:
Mark Allison is the coolest guy ever – whne Drew was a young grom, Mark would sponsor him to surf in contests and took Drew and a bunch of hoodlums – I mean, groms to Mexico to surf. What a trip that was. Those were the good ol' days…..
A bunch of groms hung out and watched Drew paint. He got one cute little boy named Hugh to paint with him. I think Hugh did a better job than Drew did, but I won't tell Drew that. Anyway, Drew doesn't even read these blogs……
Drew has this weird thing where no-one can have his cell phone number. Only about 12 people have his number, and I'm one of 'em. Some kid asked Drew for his number today, and I watched as Drew wrote down MY number! Drew's business cards don't even have a phone number or e-mail address – whatever!
Tonight we eat crabcakes and get ready for the big day tomorrow, free hotdogs at Surf City Wrightsville Beach! Yeee Haaa!