26 Jul

SURF CITY EVENT – Wrightsville Beach, NC July 26, 2008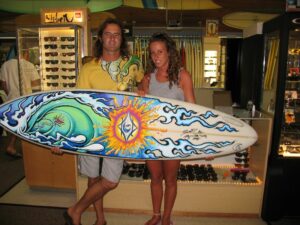 Surf City has some great surfboards. And they just scored another one with Drew's artwork!
Some girl named Julie Jesiolowski helped Drew finish the board. She was a fun, spunky surfer girl who's going to school to be a biologist….she has plans to eradicate disease in fetuses….kinda made us feel stupid! I mean, our biggest goal is to just catch a good surf day…..
Mike Barden, the owner, had a hot dog cart giving out free hot dogs, which stoked everyone out because, well, to get free stickers and hot dogs in one day is pretty awesome. READ ON: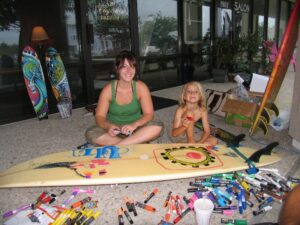 There was a chick named Ashley from Maryland who's a nanny – she and Wiggs painted my old surfboard together. It was great, because it kept him from breaking stuff in the store. You know how he gets.
The press showed up AGAIN….sigh…..a photographer from the LUMINA NEWSPAPER came, took photos and it will be posted in Thursday's paper on 7-31-08.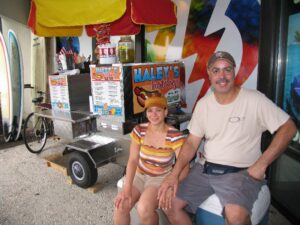 The hot dog cart family came here on a boat from Cuba – it was great to finally meet someone who did that! We were fascinated by their story. They were cool.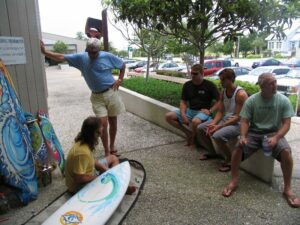 Also met an artist named Greg Ford (he's in one of the photos) he hung out and pined for more time to paint his masterpieces. Hopefully Drew inspired him to just do it!
My crazy sister Christine (she can't stay off the booze) and her hubby Big Joe and Sophia, my lovely little surfer niece, came and hung out.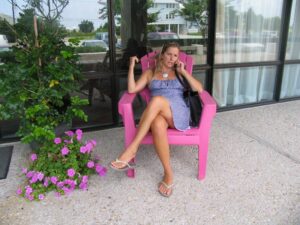 See my sister in the pink chair, gabbing on the phone.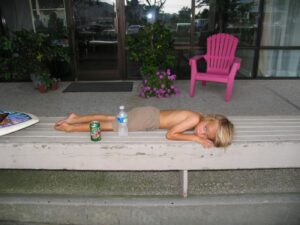 All in all, it was a good day that ended with me and Drew surfing the pier in Wrightsville. The waves were super glassy, chest high, and fun.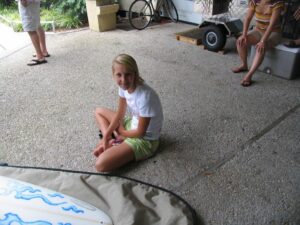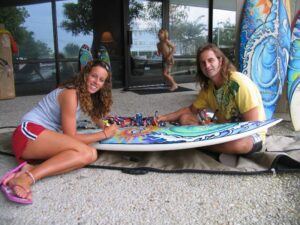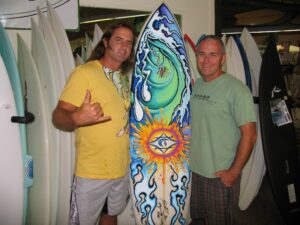 !