14 Feb

NZ Travel Log 0214 – Raglan and Valentines Day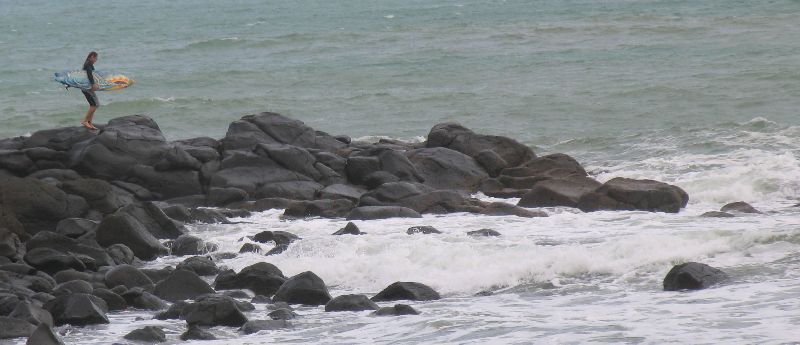 It's Valentine's Day, but we forgot about it.  That kind of thing usually happens when we travel – a few years back we were in Australia and forgot that it was Easter.  Luckily, Becca, the cool chick we were staying with in Sydney, remembered and she hid a bunch of chocolate eggs for Wiggs, who was 4 at the time, all over her house.  Thank God someone was thinking!
We've been in Raglan for 3 days now – been staying at Solscape, a lovely spot high up, overlooking Raglan Point.  Drew is exhausted from getting too many 300 yard rides (lefts, mind you)!  He's been alternating between his MR Fish and his paddleboard.  Wiggs' been inventing computer hard drive technology, and I've been writing and reading a book titled SETTLE FOR EXCELLENCE.
Notable items:
The rain has come & gone, Drew sliced his foot up on rocks, and we've been camping out at Raglan Point surf spot all day.
We surf, make coffee, make lunch, relax, surf some more, make Wiggs do his school work, then drink some wine.  Oh, and we take pictures for these posts!
One really cool thing we did – drive a windy, gravel road on death-defying cliffs to a black sand beach with huge waves, surrounded by hills and nothing else.
BUT – It's not all fun & games – tomorrow we work.  Raglan Surf Co. will have Drew doing a painting demonstration. They told me they've been getting phone calls all week from groms wanting to come see him!  It's good to know that some people will show up.
Hope you all have a great Valentine's Day – we are a day ahead, so I think those of you in the states will be celebrating V Day tomorrow.
Life is Good – Drew & Maria xxoo (oh, and The Wigg)
"Life is Either A Daring Adventure, or Nothing."  Helen Keller