18 Jul

SURF THE EARTH Event – Pawley's Island July 18, 2008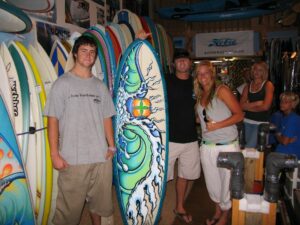 It was a fun vibe, and Drew had shop girl Perry help paint the board. Then an old friend, Dwight showed up and Drew put him to work, too.
Jason Wheeler and Dana from Carolina T.V. NOW! came and filmed portions of Drew's painting demo. (It will air on Channel 33 next week-click here and scroll down to "Drew Brophy" to watch the clip.)
Drew's vice principal from high school came, Wiggs got grommies to paint, and more. READ ON: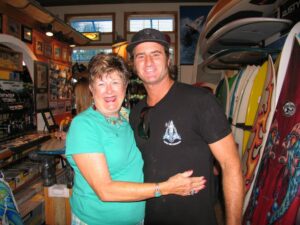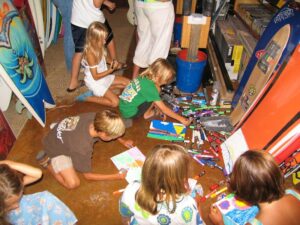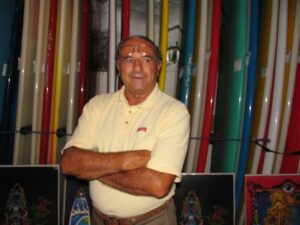 Drew's High School Vice Principal, Ms. Bleeker Cannon, showed up – he hadn't seen her in over 18 years! I asked her what she remembered about Drew – she said "He always went to the beat of his own drum. He was very talented….." She was a sweet lady!
We told Wiggs that his job was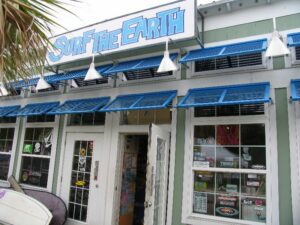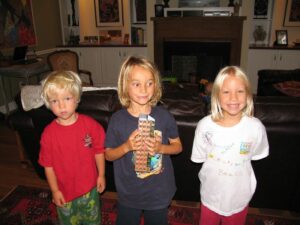 to invite every grom to join in on painting. Scott Benston, owner of Surf the Earth, bought a supply of gesso boards for all the groms to paint on. About 35 kids painted alongside Drew!
Drew's dad came and hung out for awhile…..
Later that night Scott and Deanna got a sitter for our kids and they took us out and we had a blast! We ended up crashing at their pad.
Here's a picture of Deanna the next morning – cooking up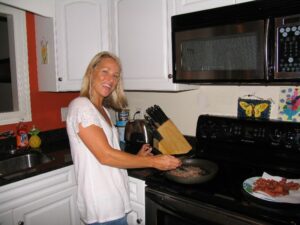 some bacon!