24 Apr

My first surfboard, painting job and other stuff – Surf Shot Mag Interview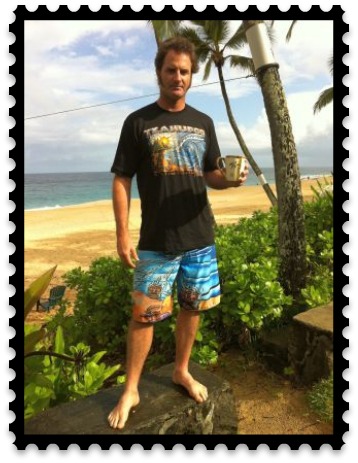 Photographer John Cocozza interviewed me for Surf Shot Magazine.  He asked a lot of great questions that let me tell a couple stories that don't normally come up in an interview, like the "town surfboard" when I was a kid, my favorite all-time painting, and being robbed in Peru.
Here's part of the interview; for the complete interview go to Surf Shot Magazine.
When did you start surfing and who got you started? My older brother Tommy put me on a board when I was about 4 or 5.  It was an instant addiction!
What was your first board and do you still have it? When I was a kid, there were only a few small boards in my hometown of Myrtle Beach, South Carolina.  The smallest board in town was a 5'8" Bing – it was like the town bicycle – everyone in Myrtle Beach rode it at one point.  We all got our turn.
My first real surfboard that I owned was a used David Nuhuiwa 5'8" – it was faded red and beat up so I taped it off and painted checkerboards and lightning bolts on it.  It was the first surfboard I ever painted.  I was about 9 or 10 at that time.
Who have been some of your major art influences? My father influenced me early on – he was always drawing and doodling, and my sister Julie was an art major.  As I got older, I was inspired by artists I saw in surfing magazines like Bill Ogden, Jim Phillips, Jim Evans and Rick Griffin.  I remember, back in the 80's, when all of the Town and Country art was wild and crazy.  I thought it was cool.
What was the 1st piece of art you sold and to whom? It was probably… GO TO SURF SHOT TO READ THE REST OF THIS INTERVIEW…
And while you're here – below is the CRUZIN' TO SANTA CRUZ Episode 3 of The Paint Shop TV Show.  Check it out!