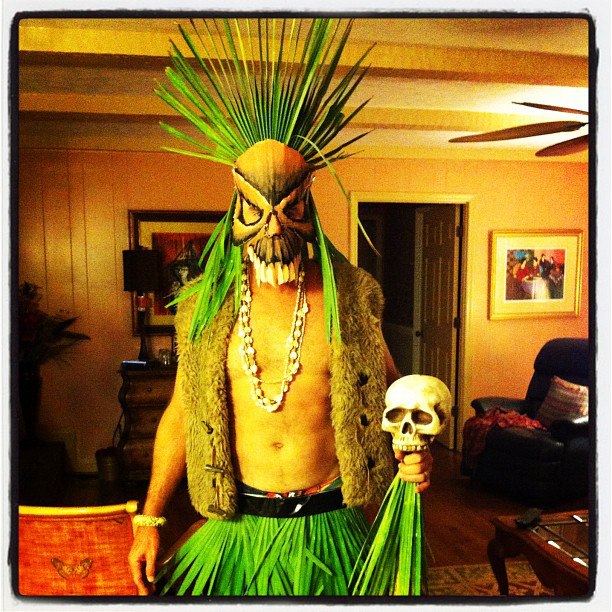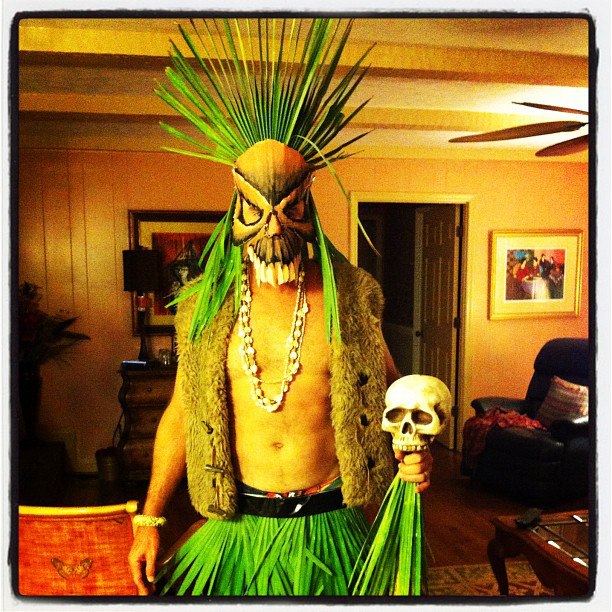 My sister Andrea and her husband Jackie invited us to a Dunes Club Halloween Party when we were in Myrtle Beach, S.C. for Halloween one year.
I had less than an hour to come up with a costume.
Thanks to the wonders of duct-tape, palm frauns and cardboard, I was able to throw this medicine man Halloween costume together fast, in less than 30 minutes.
(The only thing I bought for this was the skull head.)
Here's how you can make your own Medicine Man Halloween Costume, using everyday household items:
COMPONENTS:
FACE MASK – Cardboard, Uni Posca Paint Pens, wire, palm fronds, duct tape
Draw a creepy mask on cardboard, then cut it out with scissors.  Put a piece of wire inside the  mask so it keeps it's curve.  Secure it with duct tape on the inside.  A strap to hold it on was made with duct tape.  The palm fronds were cut and laid into a fan on the top, and around the back of the strap, and secured with duct tape.  (If you don't have palm fronds, try any other green, sturdy leaves.)  For paint pens, any will do.  I prefer Posca.
TOP – Found an old furry ski vest my dad used to wear decades ago.
GRASS SKIRT- A pair of board shorts with a grass-green colors, palm fronds, duct tape:  LAY out long pieces of duct tape and cut palm fronds to lay the ends on the duct tape, until it looks cool.  Lay duct tape on top, size it to your waist, and put it on over your shorts.
SKULL HEAD PROP – I bought the skull at Michael's Arts & Crafts store.  I duct taped it to a broom stick and taped palm fronds beneath it.
ACCESSORIES – I found some shell necklaces and bracelets around the house.
LAST MINUTE IDEA – For authenticity, I drew arm-band tattoos around my arms with sharpie markers.
I love making my own costumes  – they always look so much better than one you can buy.  Part of the fun of Halloween is making your own.
This costume was a big hit – everyone loved it!
Life is Good – Drew