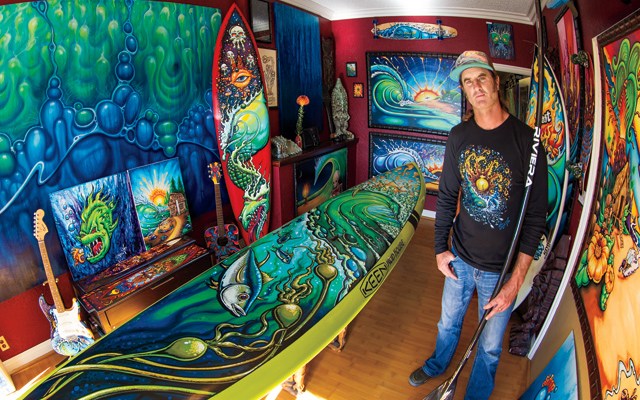 WELCOME TO MY STUDIO!
I'm inviting you to an Open House and Art Exhibit at my Studio this weekend.
I'm excited to EXHIBIT my mural titled A LIFE WELL LIVED.  It's painted on 18′ of Canvas.  You can see pictures, but they don't come close to doing it justice.  You have to see it in person.
It's the first painting I've done that I can proudly call a masterpiece.  A lot of work went into it.  It incorporates
elements from Sacred Geometry and Unified Field Theory info that I've been studying and am passionate about.  The meaning goes deep, you can read about it here.
The mural is going to it's new owner, Keen Footwear, on Monday.  Come see it before it goes!  (And, I'm giving FREE posters of the mural to everyone who attends.)
DATE/TIME:  Saturday and Sunday April 25 and 25, 2015  From 10:30 a.m. to 5:30 p.m.
LOCATION:  208 Calle de Los Molinos Suite D, San Clemente, CA 92672  Phone 949-678-8133
What to expect at my Studio Open House:
1 – On Exhibit for the last time:  18′ A LIFE WELL LIVED Mural – it has to be seen in person to get the impact.
*A FREE poster of the mural will being given to each person who attends!
2 – For sale for the first time:  Illustration Art Pieces that have been in storage going back to my LOST Surfboard days.  This is your chance to get a piece of history!
3 – This weekend only – get special discounts on my original art.  (We are making room for some very big projects.  Whatever doesn't sell is going to a gallery.  This is your chance to get originals at a deeply discounted price.)
4 – NEW Sacred Geometry and Surf Art paintings – As I've been studying Unified Field Theory and physics, my art has been changing to reflect what I'm learning.  I'll have some of the new art on display, and available to buy.
5 – Great conversation and a "tour" of my studio.  I'll be glad to get to know you.
While you're here, ask me about about Sacred Geometry Art and how drawing it helps one to connect to the Universe and transform their minds.  I'll be stoked to share some of the new information I've been soaking up in my studies at the Resonance Academy.
ALSO: Visit my good friend and studio neighbor, Joshua Paskowitz.  He will be displaying his art at his studio next door.  He's a great artist, surfer, and fascinating person to meet.
Please know that I appreciate your business – it's our fans and friends that help keep us in business.  My family and I appreciate it.
Maria and I look forward to seeing you!
Life is Good – Drew