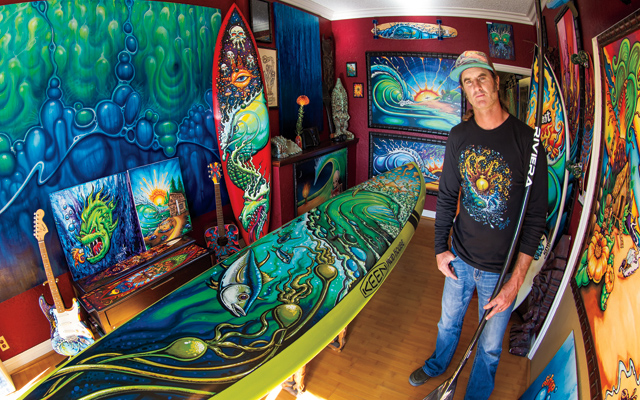 This is an excerpt from a Drew Brophy interview with SurfCareers.com – to read the entire article go to:  Drew Brophy Surf Careers Interview
When did you start surfing?
I was about four or five years old.
What is it that you love about surfing?
It's just me and nature, and the energy of the earth.
Do you have a session that stands out as your most memorable?
Hard to choose. I've surfed all of the best waves in the world, I have great memories of all of them.
When did you first get into art and did you always want to pursue it as a career?
I used to draw on the walls when I was a child. I drew on everything. I just did what I did best. Surfing and art were my passions, and that's where I put my focus.
How did you find your niche in surfboard art?
I love to surf, and I always painted my own surfboards.  People started asking me to paint theirs. In the late 80's, I was painting my own surfboards using techniques with Uni Posca Paint Pens that no one else was doing or cared about at the time. I developed my own style of painting with Poscas, and I knew it was the better way to paint surfboards. It took years before others caught on. I never gave up on my vision, though it did not come easy. Early on, I painted production boards, traditional airbrush style, for H2O glassing and Kelly Richards' Perfection Surfboards, in Myrtle Beach, SC.
Then I moved to Hawaii, airbrushing surfboards at Bill Barnfield's Pro Glass in Haleiwa on the North Shore for the best surfers and shapers in the world.  Brands like Channel Islands, Rusty and Brewer and surfers like Tom Curren and Tom Carroll.  This was a big jump for me, coming from South Carolina. I was in the thick of the industry, and I was in my early 20's.
But, what I really wanted to do was paint surfboards using my own style and paint pen techniques, but none of the companies would let me.  The local underground chargers on the North Shore wanted it, but the companies held it back. While in Hawaii, I had approached all the best surfboard companies, asking if I could paint their boards using Poscas. No one would let me, my art was too radical. I was turned down by T & C, Local Motion, all the big companies at that time. Nobody cared about what I was doing.
Eventually I moved to California, painting at Ron House's Surf Glass in San Juan Capistrano.  There, Stewart, Hobie and Harboursurfboards, among others, were being made.  At that time, it was the busiest surfboard factory in the world; it ran 24 hours a day. For a surfboard painter, this was a dream job.  There was always plenty of work.  But I still wanted to paint using my own style, so I continued to seek out other surfboard companies to let me paint my way.  I approached Spyder Surfboards, one of the biggest brands at the time, and just like the companies in Hawaii, they didn't get what I wanted to do and told me "no".
One day, on my bike ride home from Surf Glass, I stopped to meet artist Matt Biolos, an edgy, up and coming surfboard shaper.  We were the same age, and his art was really cool.  He was the only person I had seen who was painting with the Poscas, the same as me. He made surfboards for all the young guys.  My art was a perfect match for the vibe of …Lost Surfboards at the time. Matt got it!  I started painting …Lost surfboards that day.  Matt would let me paint whatever I wanted.  I would paint ten boards traditional style at Surf Glass, and then at the end of the day I'd go to …Lost where Matt would have surfboards waiting for me, and I'd paint them in my own style.They were an instant hit with the new breed of surfers. Within six months, my art and …Lost Surfboards began to take over the surf market.  That was 1996.  And the rest is history.  Surfboards were changed forever.
Do you recall when your pieces first started receiving widespread response?
Yes, it was in the late 1990's, when I started painting, live, at the surf trade shows.  …Lost would exhibit at Surf Expo and other shows. The surfboards were never finished in time before the show for me to paint them.  So my solution was for me to paint, live, at the shows.  What surprised me was ……
READ THE REST OF THIS ARTICLE HERE:  http://surfcareers.com/blog/drew-brophy-artist/